Husband, father of 4, killed in Sandy road rage confrontation
Oct 27, 2022, 11:28 AM
|
Updated:
Nov 18, 2022, 6:14 pm
(Mark Wetzel/KSL TV)
SANDY, Utah — A husband and father of four was shot and killed during a road rage confrontation in Sandy on Wednesday.
On Thursday, police confirmed that Chris Mortensen, 41, of Pleasant Grove, was the victim in the deadly confrontation.
"We are devastated to lose a dedicated husband and father, way too soon, in a way that we will never understand," according to a fundraiser started for his family.
Mortensen was on I-15 about 9:30 a.m. when he was allegedly cut off by Rodrigo A. Monroy, 32, of Riverton, according to police. Monroy admitted after his arrest that he "brake checked" Mortensen.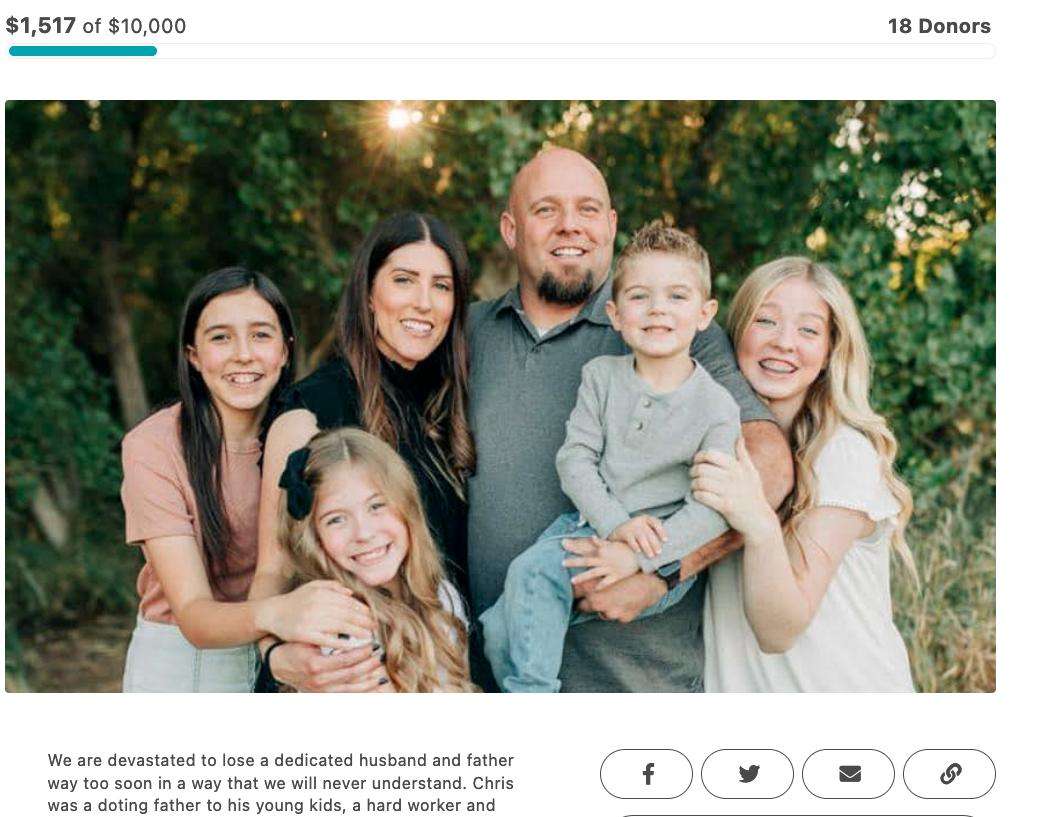 According to a person who claims he witnessed the incident, Monroy allegedly cut off Mortensen more than once, starting near 12300 South, and wouldn't let him pass.
Police say Mortensen then motioned to Monroy to pull over. Monroy followed Mortensen as they got off the freeway at 10600 South, and came to a stop in front of a gas station just off the freeway near 160 West, said Sandy Police Sgt. Greg Moffitt. Mortensen got out of his car and approached Monroy's vehicle, which had parked behind him, went up to the driver's side window and slapped the windshield with his hand.
"Monroy then pulled a gun out from under the driver seat and pointed it at (Mortensen) telling him to back away. (Mortensen) attempted to grab the gun and a short struggle ensued through the open window of (Monroy's vehicle)," according to a police booking affidavit.
Monroy pulled his gun away and then "leaned away from (the victim) and fired one shot which struck (Mortensen) in the chest," the affidavit states.
Monroy was later booked into the Salt Lake County Jail for investigation of murder and illegal discharge of a firearm.
Mortensen, originally from Mesa, Arizona, is survived by his wife of 20 years, three daughters and a young son, and was preceded in death by another young daughter.
"Chris was a doting father to his young kids, a hard worker and sole provider for his family. He walks into a room and you knew he was there. He would give anyone the shirt off his back or come to your aid at the drop of a hat," the fundraising site states.
On social media, many posted tributes as word of Mortensen's death spread.
"Chris is a protector not a fighter he didn't provoke this … that wasn't Chris. Please say some prayers for his wife who's already had a loss that no mother should have to go through and now she's a young widow with the cutest little, almost, 4-year-old boy … and three precious girls," one woman wrote on Facebook.
"Our grandbabies lost their daddy from a terrible violent act of road rage," another person, who identified as one of Mortensen's in-laws, posted. "This has devastated this beautiful family to say the least. A donation fund has been set up to help Nicole and the kids. Every bit will help."
"My heart is shattered into a million pieces for my sister, our sweet nieces and our nephew. My brother-in-law Chris was killed this morning and life will never be the same. We lost him in a split-second, over a mindless act of violence," another woman wrote.