Report claims some Utah power plants aren't meeting cleanup requirements
Nov 4, 2022, 3:17 PM | Updated: Nov 18, 2022, 5:48 pm
(Ravell Call/Deseret News)
CASTLE DALE, Utah — Five Utah power plants were called out for alleged mismanagement of coal ash in a national report that was released Thursday and disputed by the operator of two of those plants.
Utah's Hunter Power Plant, located near Castle Dale and operated by PacifiCorp, ranked as the ninth worst groundwater-contaminating plant in the nation in the national study of nearly 300 power plants by environmental law nonprofits Earthjustice and the Environmental Integrity Project.
PacifiCorp operates Rocky Mountain Power, a utility which provides electricity to 1.2 million customers in Utah, southeastern Idaho and Wyoming, according to its website.
Along with the Hunter plant, the Huntington Power Plant northwest of Huntington (No. 25, PacifiCorp), Intermountain Generating Facility north of Delta (No. 43, Intermountain Power Service Corp.), Bonanza Power Plant northwest of Bonanza (No. 62, Deseret Generation and Transmission Co-op) and the Sunnyside Cogeneration Associates Facility east of East Carbon (No. 93) all landed within the top 100 groundwater contaminating plants out of 292 in the nation.
Coal ash is the toxic waste product that's left behind when coal is burned for electricity and is "one of the two largest industrial waste streams in America," said Abel Russ, senior attorney with the Environmental Integrity Project, a nonprofit that advocates for effective enforcement of environmental law.
"We continue to generate about 70 million tons of coal ash every year," Russ said. "This stuff is full of toxic chemicals. There are at least six neurotoxins in coal ash like lithium. There are five or six known or suspected carcinogens, things like arsenic and there are a bunch of pollutants that are toxic to aquatic life as well."
He said that these neurotoxins and carcinogens "frequently" migrate into water sources.
PacifiCorp responded to the report Thursday with the following statement:
"PacifiCorp is not violating the coal combustion residuals rule (CCR Rule) as implied by the report and posts its compliance information publicly. PacifiCorp's CCR units are not impacting any public sources of drinking water.
"PacifiCorp is in full compliance with the federal CCR Rule and is actively engaged in the assessment, correction and remediation of groundwater impacts identified under the provisions of the rule.
"PacifiCorp held public meetings and reviewed public comment to assess and select appropriate remediation steps for the three plants listed in the report in 2019.
"PacifiCorp has and will continue to implement the most effective remediation steps at all of its plants, and statements in the report that PacifiCorp is not pursuing cleanup are not accurate.
"PacifiCorp has closed and made commitments to close several of the listed CCR units.
"In a quick review of the report, PacifiCorp has found inaccurate or misleading information and statements about the CCR units at the three plants."
The Environmental Protection Agency established its coal ash rule in 2015, in response to nearly 160 cases of water contamination and catastrophic coal ash spills — which sent over 5 million tons of coal ash into nearby rivers — at Tennessee Valley Authority's Kingston Fossil Plant in 2008 and Duke Energy's Dan River Generating Station in 2014.
That rule put regulations in place to close leaking ponds and landfills to prevent them from contaminating drinking water sources and aquatic ecosystems, monitor and clean the groundwater around coal ash disposal sites and restore the environment around them.
Thursday's report claims that the groundwater around the plant contains levels of lithium (a neurotoxin) that are 210 times the safety threshold set by the EPA, while cobalt (toxic to blood and the thyroid) was found at 28 times the threshold.
"Almost all coal ash plants in the country are contaminating the environment," Russ said.
The Hunter plant's only regulated coal ash disposal unit is a 340-acre landfill, of which 230 acres are used for coal ash disposal, according to the report.
Russ said that while the coal ash rule was implemented in part to figure out how bad the contamination actually is — something it has succeeded at — it was also implemented to do something about the contamination.
"We're not seeing that as much as we should be," Russ said.
The Hunter plant is no exception.
According to the report, PacifiCorp has acknowledged that the landfill is contaminating groundwater and it proceeded through detection and assessment monitoring to corrective action. In 2020, PacifiCorp selected a remedy.
Coal plant owners are ignoring the law and avoiding cleanup because they don't want to pay for it. Coal ash waste is causing widespread water contamination that threatens drinking water supplies and the environment." — Lisa Evans, senior attorney at Earthjustice
"The remedy — which consists of horizontal groundwater collection wells used to collect leachate and contaminated groundwater — may not be adequate," the report claims.
But why?
"One of the problems at Hunter is that they claim that the remedy is working already, but the evidence actually shows that it's not," Russ said. "What in fact we see is that some contaminants are increasing in concentration in the groundwater, despite having those horizontal wells in place. We think that might be a little bit problematic."
Another issue, the report alleges, is that PacifiCorp "appears to have limited its focus to two pollutants" — lithium and molybdenum — even though there are allegedly also unsafe levels of contaminants including cobalt, radium, selenium, boron and sulfate.
"It will be important to figure out if the remedy will actually address all the pollutants or only the two that they chose to sort of highlight," Russ said. "We think they're doing something at Hunter, but it doesn't quite seem to be good enough yet."
The report claims that Hunter is in violation of the coal ash rule due to "persistent contamination despite implementation of a remedy."
According to the report, another issue is that power plants emitting coal ash are primarily located in areas where the population is either low-income, predominantly nonwhite, or both.
"This utility industry refusal to stop coal ash pollution harms our most vulnerable communities," said Lisa Evans, senior attorney at Earthjustice, a nonprofit environmental law organization.
According to a database compiled by Earthjustice that shows the implementation of the Coal Ash Rule at all waste ponds and landfills across the U.S., the Hunter plant is disproportionately impacting vulnerable communities, with 30% of residents within a three-mile radius of the plant being low-income.
"This is environmental injustice," Evans said.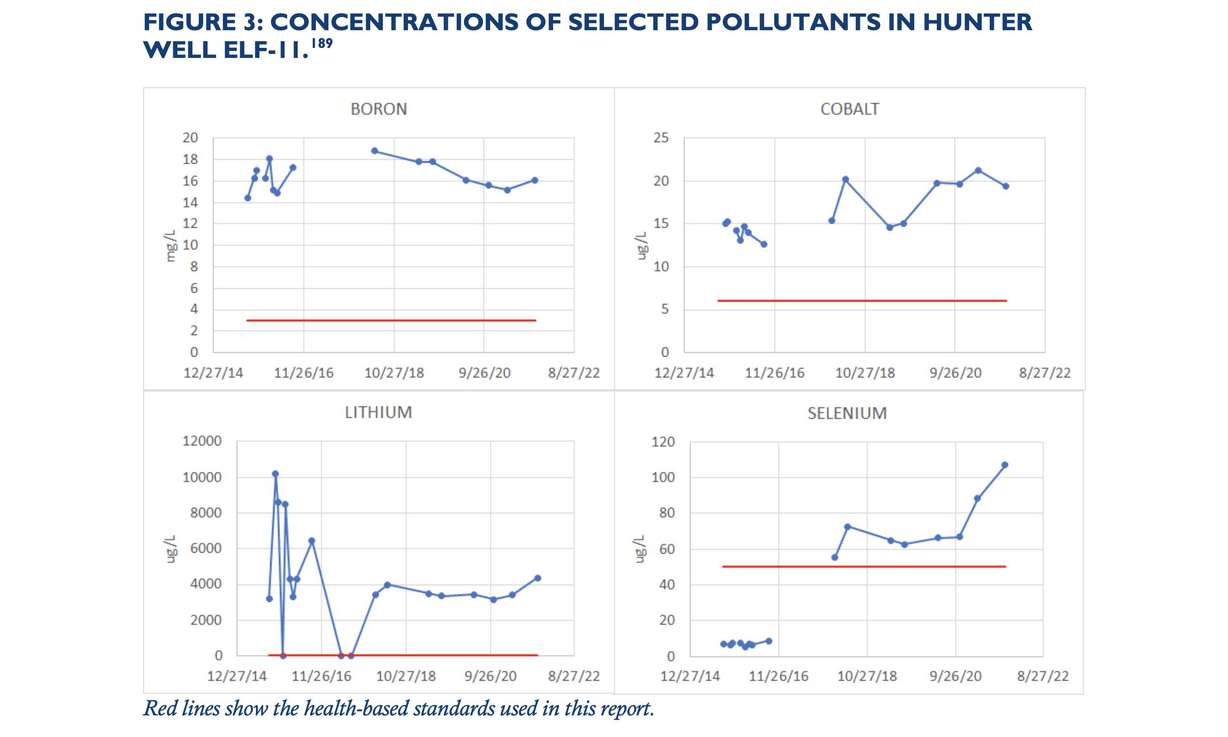 However, this issue is not unique to the Beehive State.
The report found that more than 90% of the included plants are contaminating local groundwater and that "a majority of coal plants are delaying and avoiding compliance with the requirements of the federal rule."
It also alleges that the utility industry "is illegally manipulating data and monitoring systems to make contaminated sites look clean and to avoid cleanup."
"In every state where coal is burned, power companies are violating federal health protections," Evans said. "Coal plant owners are ignoring the law and avoiding cleanup because they don't want to pay for it. Coal ash waste is causing widespread water contamination that threatens drinking water supplies and the environment."