How does Utah's current snowpack compare with previous New Year's Day totals?
Jan 3, 2023, 2:35 PM
|
Updated:
2:36 pm
(Scott G. Winterton/Deseret News)
SALT LAKE CITY — 2022 ended with a bang that only continued into the new year, as several feet of snow fell in the state's mountains.
Sundance Mountain Resort, for example, received more than 4 feet of snow between Friday and Monday, according to the National Weather Service. The agency noted multiple records were broken to start the new year, too.
The additional snow — and more forecast on the horizon — is helping provide a crucial first step out of a lingering statewide drought. About 95% of the state's water supply comes from the snowpack collection and spring snowmelt runoff period.
While Utah's 2023 water year began all the way back on Oct. 1, New Year's Day is almost the perfect halfway point in the snow collection season that typically runs from October through early April.
So how is Utah's mountain snowpack faring at this halfway point compared to other years?
2023 vs. other years
Snowpack is based on a statistic called snow water equivalent, or the amount of water within the snow that's fallen on the ground. Utah's average snowpack — a figure calculated by the average of 114 stations across the state — reached 8.9 inches of water on New Year's Day Sunday, according to Natural Resources Conservation Service data.
It's since risen to 10 inches of snow water equivalent, as of Tuesday morning. The most recent storms were abnormally water-heavy, something that's bad for avalanche danger but great for snowpack.
For instance, KSL meteorologist Kevin Eubank said the water content in the 52 inches of snow at Sundance is about double what typically falls in the mountains. This is why the area dealt with downed power lines and tree damage as the snow fell.
"If you shoveled this week, you know this was not fluffy powder," he said, appearing on KSL NewsRadio's "Dave and Dujanovic" Tuesday. "We got the (snow) depth but the good news is that we have the water in the depth. We drink the water, not the depth."
The storms tacked on 3.6 inches of water on the statewide average since they began on Dec. 27, helping push Utah's current total to 170% of the normal for early January. This number also represents nearly two-thirds of the annual snowpack collected in a year with 92 days left until the normal peak in early April.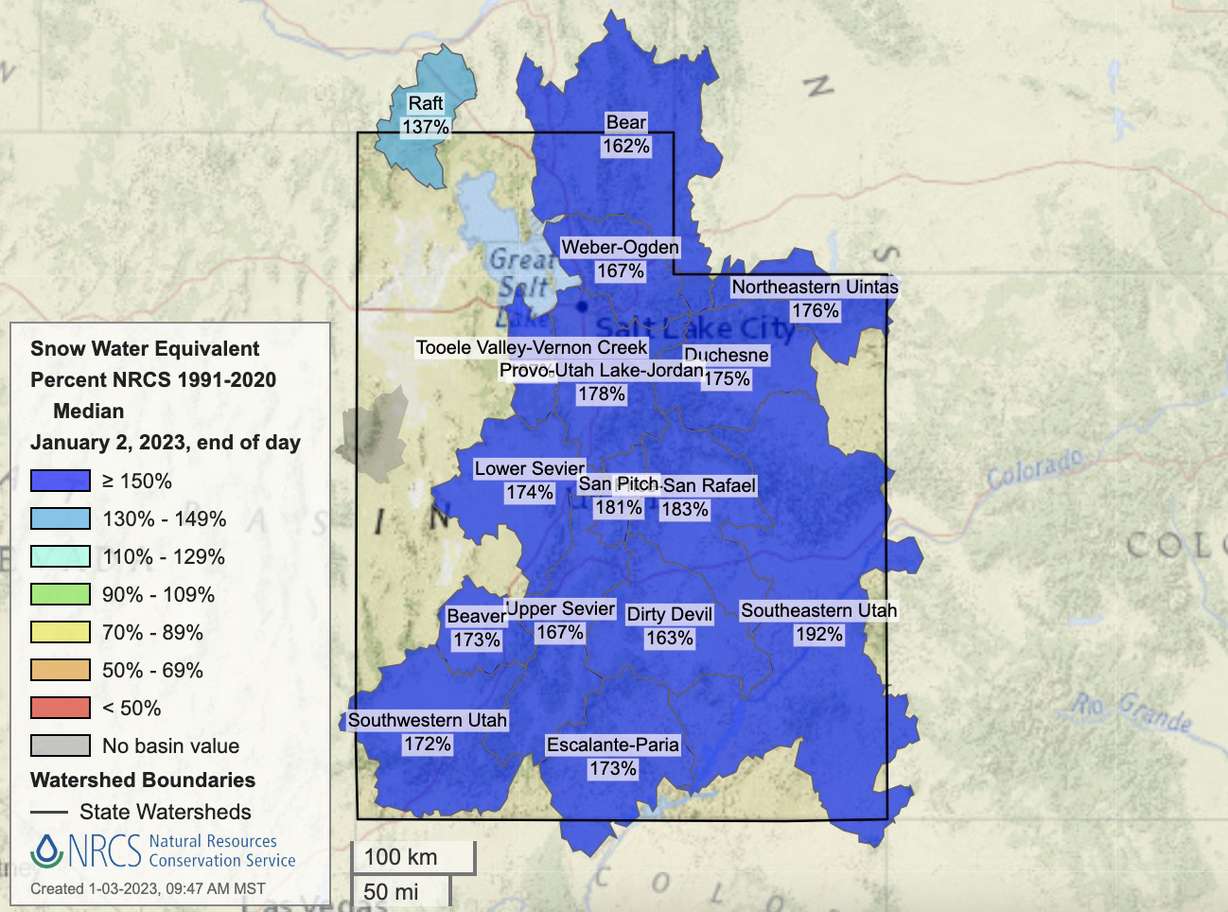 What's more, the snowpack is spread out rather evenly. Aside from the Raft River snowpack basin (137%), a sliver of northwest concern of the state, Utah's other basins are listed at between 162% and 192% of normal for this point in the year.
"It's really excellent out there," said Jordan Clayton, the Utah snow survey supervisor with Natural Resources Conservation Service.
But the 8.9 inches listed on Sunday is well above the normal of 5.8 inches for New Year's Day, which is based on the average snowpack collected from 1991 through 2020. This figure is 1.3 inches above where it was on New Year's Day 2022 after an equally impressive run to end 2021, and nearly 2½ times the statewide snowpack total at the beginning of 2021.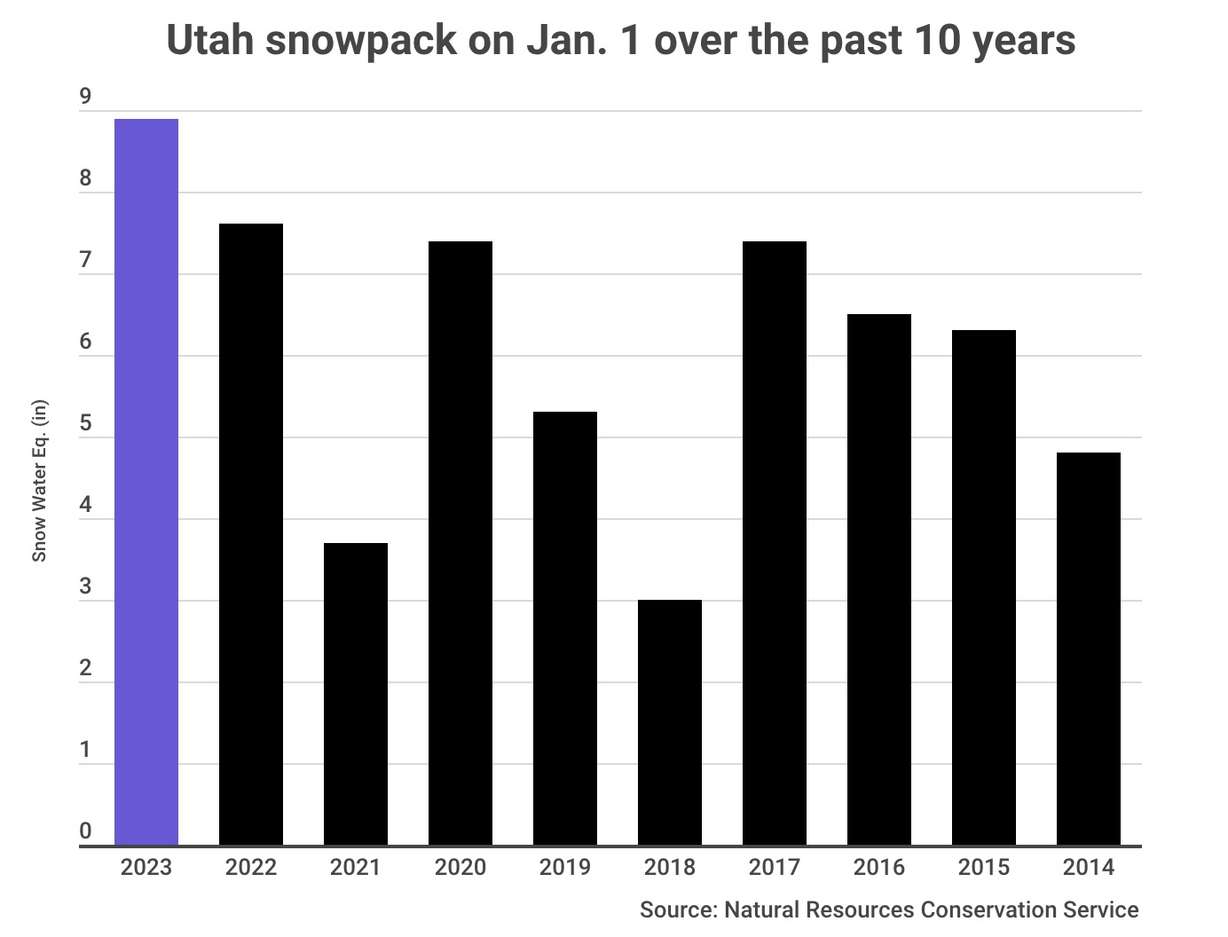 Sunday's total is the best Utah's snowpack has been on New Year's Day since 2011, when the state's mountains held an average of 12.5 inches of water by the holiday.
In fact, Utah's 2023 total is tied with 1982 as the eighth-best snowpack on New Year's Day, according to the federal agency's data, which goes back to the 1981 water year. The record high in that time is 14.6 inches set in 1984; the record low is 3 inches set in 2018.
A stronger outlook?
Of course, there still are three months left in the traditional snow collection season and, as Gov. Spencer Cox reiterated last month, there is more snow needed in the second half of the season.
Last year provided an example of how patterns can drastically shift in Utah. The snowpack spiked from 3.4 inches on Dec. 23, 2021, to 9 inches by Jan. 8, 2022. However, it then plateaued, gaining just 0.2 inches between then and Feb. 16, 2022, when the next active pattern rolled in. The promising total on New Year's Day wound up in another below-normal snowpack in the end.
A repeat of 2011 would be just what Utah needs amid its drought situation. During that water year, storms continued to pepper the state well after New Year's Day, and the snowpack began to melt on May 1 at 24 inches of snow water equivalent, 8.2 inches more and nearly one month later than the peak normals.
"What we're hoping for this year is that the storm pattern just keeps coming," Clayton said.
The good news on this front is that climate outlooks continue to show encouraging signs for at least the near future.
The National Weather Service's Climate Prediction Center revised its January outlook on New Year's Eve, listing all of Utah — and most of the West — within a greater probability of above-normal precipitation. That's just because of the record-setting start to the year for some parts of the state.
Eubank points out that a "little" storm will continue tacking on some more snow Tuesday ahead of another storm that is forecast to produce valley rain and up to another foot of heavier snow in the mountains Thursday and Friday.
There's another potentially major storm system waiting in the wings after that. The Climate Prediction Center projects a storm to impact the Pacific Coast next week. Though Clayton notes that it may become "somewhat depleted" as it moves east toward Utah, the state may receive another strong snowpack boost.
All Utah locations are listed within a 40% to 60% probability of above-normal precipitation between Jan. 8 and Jan. 12, according to the center. The normal for those days is just over 1 inch of precipitation in some mountain areas of the state.
Utah locations are also listed within a 40% to 60% probability of above-normal precipitation between Jan. 10 and Jan. 16.
There's a greater probability for above-normal temperatures, meaning the possibility that it rains in the valleys and snows in the mountains.
The Climate Protection Center's three-month outlook remains unchanged, which lists most of the state within "equal chances" — no clear indication for a wetter or drier than normal — through the end of March.
Given the strong outlook through at least mid-January, Clayton says he's still optimistic about this year's snow collection — as long as atmospheric high pressure doesn't mess with storm activity in the final two months of the normal season. Paired with solid soil moisture levels before the snow collection, Utah could be in line for strong snowmelt to begin replenishing the state's reservoirs, which have already slowly risen from 43% to 47% capacity in the past few weeks, according to the Utah Division of Water Resources.
An equally strong second half to the snowpack year could help repair a lot of the current drought damage since it developed midway through 2020; however, the general rule of thumb is it takes as many years to get out of a drought as it did to enter one.
"It is possible that we could bring it all back in one winter but it's very unlikely," Clayton said. "It's probably going to take multiple winters to (get back) just like it took multiple winters to get where we were."