Rocky Mountain Power provides update on proposed headquarters rezone
SALT LAKE CITY — Utah's capital city is inching closer to making a decision on Rocky Mountain Power's proposal to rezone its west side headquarters into a mixed-use urban center core.
The Salt Lake City Council set a public hearing date on the proposed rezone for Feb. 7, two weeks ahead of a tentative final vote on whether to approve the measure. The vote came after members of the council got an update on the project earlier in the day.
The power company is currently in the process of creating a master plan for the future redevelopment of about 100 acres of land it owns between South Temple, North Temple and Redwood Road. The specific proposal would rezone 5½ acres of land located at 1223 W. North Temple, as well as parts of 1219 W., 1275 W. and 1407 W. North Temple, from its current state of light manufacturing and a transit station area to a more urban center core.
Chris Parker, executive director at Giv Communities, a consulting firm hired for the project, explained that Rocky Mountain Power is looking to reshape its parcel layout, opening the door for a new office headquarters along with other office and housing development on North Temple, adjacent to the Jordan River and across the street from the Utah State Fairpark. It would be considered the first phase of the proposed massive overhaul.
There are some seismic concerns regarding Rocky Mountain Power's current structures. The utility company is also evaluating "what tomorrow might need," in addition to providing utilities and being a "central node" in conversations regarding air quality and climate change, Parker said.
"The way to get both of those outcomes is for transportation and buildings to move from dirty sources of power to clean sources of power — and that's going to mean a radically different need for infrastructure for Rocky Mountain Power going forward," he said.
The project also calls for a 500-stall parking garage that would be open for multiple uses beyond the headquarters. Housing units would wrap around the structure to disguise it from the area, project managers said. An upgraded essential services facility that offers the "brains, the guts and the heart" of an electric grid for a large chunk of the West would be located near the new headquarters, he added.
There would also be a plaza with some retail space near the main buildings. Renderings provided Tuesday show no plans to remove the three large steam stacks in the area. Planners say the structures will continue to serve as a "visual icon" for the project site even if they aren't operational.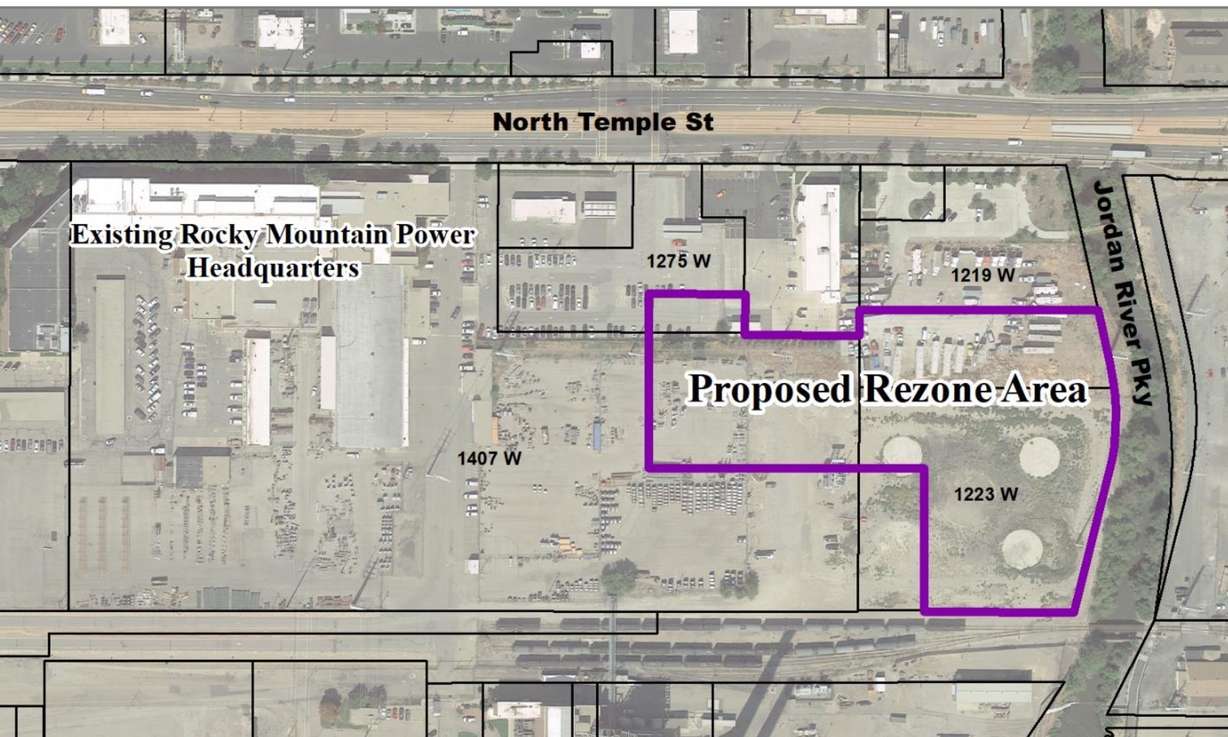 Salt Lake City planning manager Wayne Mills said the proposed rezone would allow for buildings to have a maximum height of 90 to 105 feet. A second phase of the project would include a riverfront park open to the general public, Parker said.
There were some concerns brought up during Tuesday's presentation. Salt Lake City Councilwoman Amy Fowler said she wants to make sure the project doesn't price residents out of the city's west side, while Councilman Dan Dugan said he would also like to see developers include steps to reduce collisions birds have with buildings, given the project is near a riparian (bird refuge) area.
Project representatives said they held meetings last month and plan to continue to "engage" with the surrounding community to address some of these concerns as the larger, wide-scale project slowly moves forward.
Overall, members of the council appeared interested in Tuesday's update — they are tentatively scheduled to vote on the measure at their Feb. 21 meeting. If approved, Rocky Mountain Power expects to break ground on the project either in the spring or summer.