Utah's mountain snowpack reaches milestone. How close is it to the record?
(KSLTV)
SALT LAKE CITY — Utah's mountain snowpack has surpassed 20 inches for the first time since 2019 and only the eighth time over the past 25 years, as storms continue to push this year's total up into the record books.
The Natural Resources Conservation Service listed the statewide snow water equivalent figure at 20.8 inches of water on Monday, gaining a little more than 4 inches over the past two weeks. The current snowpack is the highest it has been at any point since the 2016-2017 snow collection season peaked at 21.1 inches on March 9, 2017.
Can 2023 break the all-time record?
This year marks the 14th year that Utah's snowpack has reached 20 inches or more since the agency began tracking mountain snowpack during the 1980-1981 water year, according to its data. Given the long-range outlook, this year has the potential to be one of the state's wettest since the records were first kept.
The record high remains 26 inches, set on April 13, 1983. Utah Gov. Spencer Cox took notice, tweeting Monday that the current snowpack is actually higher than it was in early March 1983, as well as some of the other notable snowpack years since 1980.
"We are currently behind (1997), but that year had fewer spring storms. Still, multiple storms in the forecast!" he tweeted. "This is one to remember."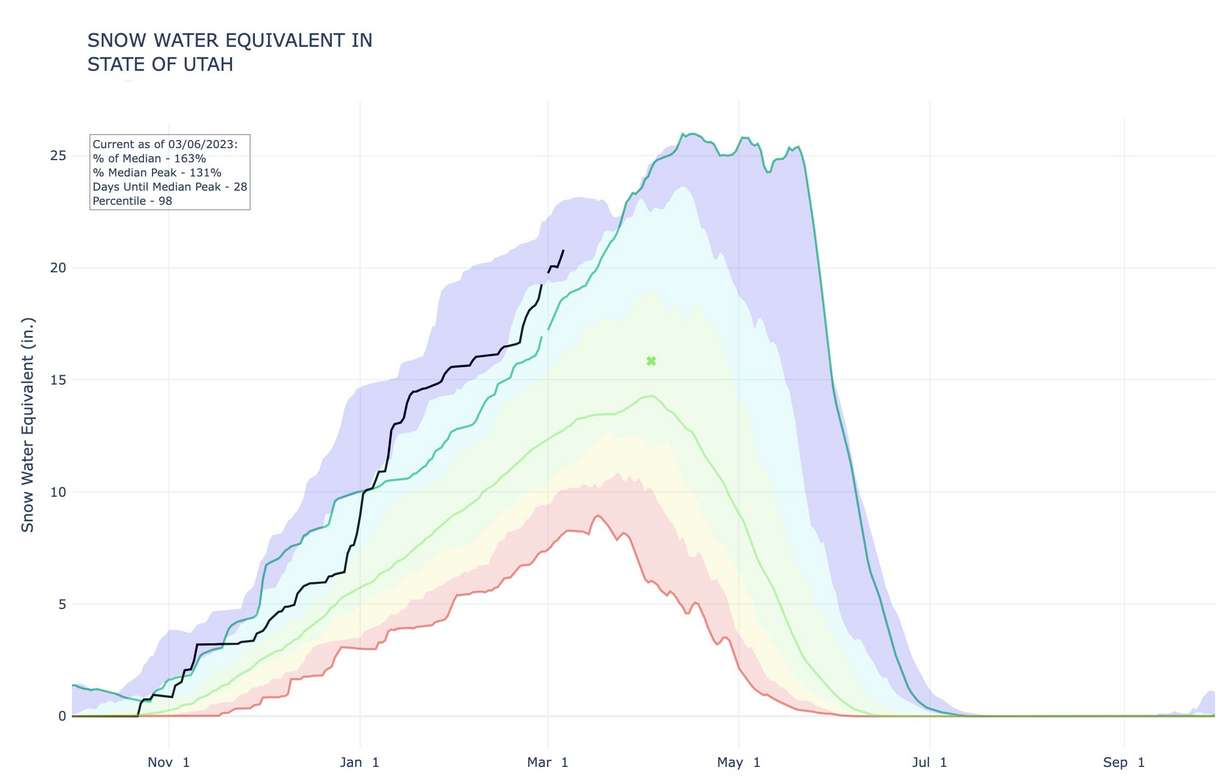 The year 1983 took the record because its snowpack jumped 7.3 inches from March 6 to its peak near mid-April. Of course, that year is remembered most for severe flooding; however, that's because storms kept the statewide figure above 25 inches before it melted in a matter of weeks after May 20, 1983.
It's still too early to know if this year will also result in flooding, though communities across the state are already preparing for that potential.
Salt Lake City and county officials began releasing additional water from reservoirs in Parleys Canyon because the projected water total in the spring runoff far exceeds the amount needed to refill Little Dell Reservoir. Weber County leaders are checking to make sure all their drainage systems are clear to ensure there is nothing that blocks the snowmelt and causes flooding.
Even if 2023 doesn't topple 1983, it's still likely to land among the 10 best Utah snowpacks on record. It only needs 0.5 inches to crack the current top 10, according to Natural Resources Conservation Service data.
1983: 26 inches
1982: 25.5 inches
1984: 25.2 inches
2011: 24.3 inches
1997: 23.7 inches
2005: 23.6 inches
1993: 22.4 inches
1986: 22.1 inches
2006: 22 inches
1998: 21.3 inches
More snow this week
Breaking into the top 10 could happen in the next few days, as Utah remains in an active storm pattern. There are "multiple" storms in Utah's seven-day forecast, says KSL meteorologist Brett Benson.
This week's storms are the result of a low-pressure system stalled off the coast of Washington and Oregon. While Benson said the system will "basically die out," it's allowing for an atmospheric river to form below it, pushing a series of storms into northern California that will ultimately move through Utah as they travel east over the next few days.
"We're just lining up storms in this flow," he said. "A series of storms will continue to work into (Utah) this week."
The first of those impacted the Wasatch Front region Sunday night and Monday morning. Snow showers are also possible in northern Utah on Tuesday morning and Wednesday evening. Another storm system is expected to impact the state on Friday and Saturday, reaching into southern Utah, as well. That system is expected to provide a mix of rain and snow.
The storms are also boosting snow depth totals at resorts. Alta Ski Area, for example, reported Monday that it has now received nearly 640 inches of snow this season. Benson said it and other neighboring resorts may begin to start pushing 700 inches this season by the end of the week because of the storms.
Full seven-day forecasts for areas across Utah can be found online, at the KSL Weather Center.