The fulfilling and challenging experience of raising backyard chickens
BOUNTIFUL, Utah — When Elayne Harmer's daughter came home one day after work asking if she could bring home some chicks to raise, Harmer had no idea what saying yes would entail.
"I never thought I would be a chicken lady, but here I am," she said.
Harmer's daughter, Ariel, got the chicks last spring when the local Cross E Ranch had several new baby animals. Harmer agreed to let Ariel raise the chicks, as she was enchanted with them. Harmer didn't think it would be very much work for herself.
But when Ariel went on a study abroad over the summer, then moved to Provo for college in the fall, Harmer had to get up to speed on the ins and outs of caring for the chickens.
"If I had known that Ariel was going to have me take care of the chickens I never would have said 'Sure, go ahead and get chickens.' But now that we have them, they're just so much fun. They're adorable," Harmer said.
Harmer said the chickens have charmed her and she dotes on them. And, because she doesn't have any grandkids, yet — the chickens have become her "little babies."
"I just grew to love them — I don't think it's reciprocated," she quipped. "But they are so fun."
Many people choose to raise chickens to have fresh eggs or meat, and to be more self-sufficient. Some see it as a way to save money on groceries, but Harmer said raising chickens has been quite an economic investment.
Her daughter built a roost for the chickens that cost around $500, and a greenhouse cover for the winter cost them about $150. Combined with the cost of straw, feed, heat lamps, bedding, toys and other materials necessary for the chickens, "it's added up," Harmer said.
Her three chickens — MJ, Leo and Donna — each produce an egg a day, and MJ sometimes lays two. After the cost of everything, Harmer said each egg costs around $30, but the eggs are super delicious.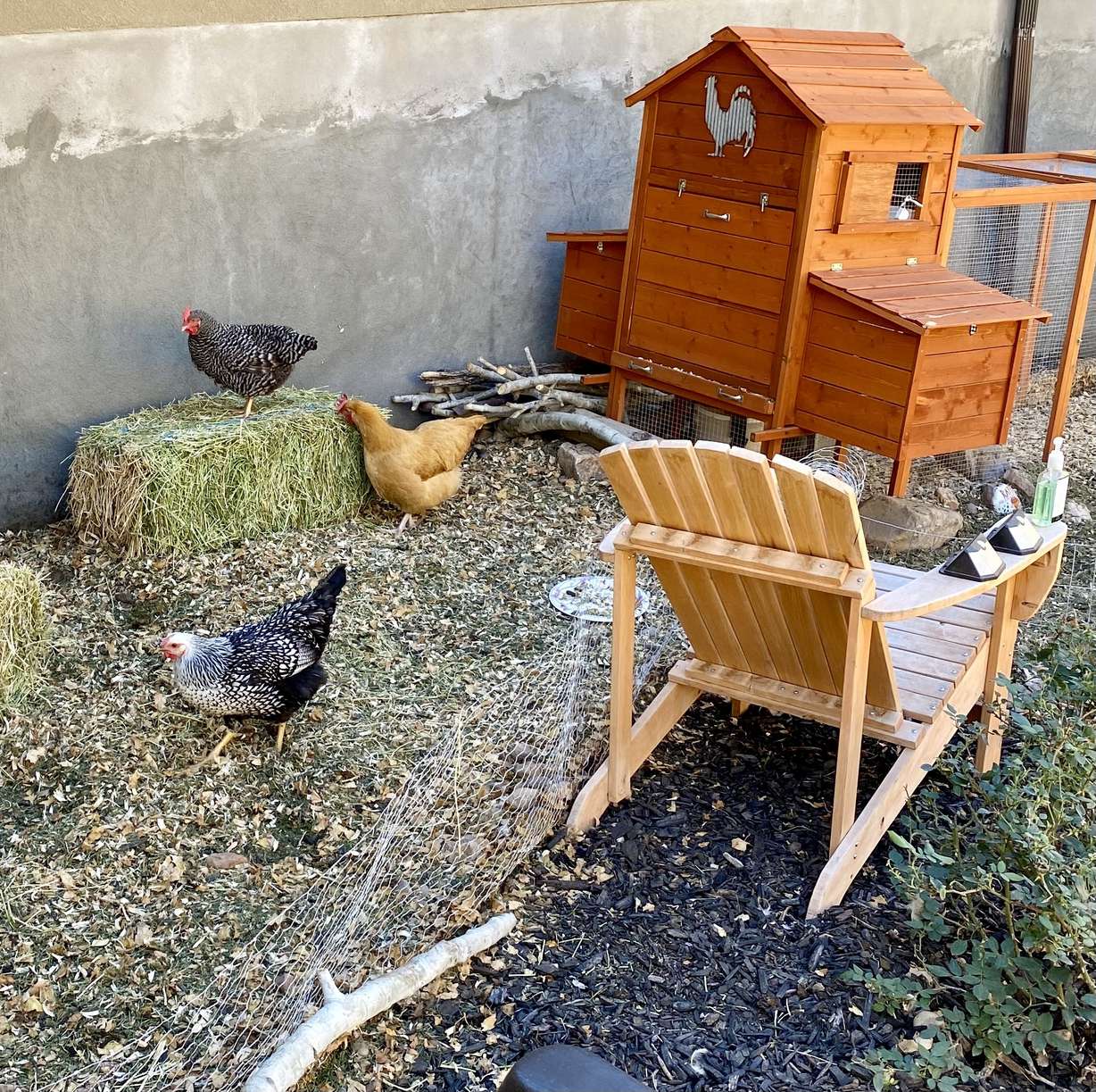 David Frame, a poultry specialist with Utah State University Extension Services, said in a press release that it takes about 4 pounds of feed to produce a dozen eggs, not including the additional feed needed to help raise hens to reproductive age. Larger chickens contribute to higher maintenance costs as well.
"All things considered, it would indeed be rare that home-produced eggs and poultry products would prove to be more economical than purchasing eggs and fryers from the supermarket, even at today's higher costs," Frame said.
While raising chickens can be an exciting adventure for many families, it's not something people should take lightly.
Proper housing, nutrition, hygiene, adequate space and more are all crucial in ensuring the safety of chickens. Especially in Utah, owners of chickens should take care to protect their animals from potential predators and the winter weather.
"As a veterinarian, I have seen birds that are not properly cared for," Frame said. "Most of this is simply due to lack of knowledge and is seldom caused by willful neglect, but it is important to be aware of all the requirements and responsibilities before you jump into raising backyard chickens."
No matter the reason for wanting chickens, Frame suggests anyone interested to do the proper research so they know the costs and responsibilities the chickens require.
Harmer agreed and said everyone should learn as much as possible before purchasing chickens.
Once her daughter left, she followed Instagram pages, joined Facebook groups and subscribed to newsletters to help educate herself about raising healthy chickens.
Even though it's a lot of work, Harmer loves sitting on a chair doing crossword puzzles while she watches her chickens poke around the yard eating bugs. She has fallen in love with each of their personalities and enjoys training them to hop up into her lap.
"And of course it's so fun going out there and finding eggs. It's like Easter morning every time I go out there," Harmer said.