Late defensive sub steals show at BYU's second annual alumni football game
PROVO, Utah — Former BYU defensive back Spencer White wasn't initially supposed to be at LaVell Edwards Stadium in the Cougars' second-annual alumni touch football game Friday evening, but Team Navy is glad he was.
White, who played for the Cougars from 1999-2005, took an unclaimed jersey set aside for former BYU safety Andrew Rich and joined the team led by quarterbacks John Beck and Brandon Doman, wide receiver Cody Hoffman and cornerback Ben Criddle, who convinced White to play at the last minute.
If you thought White was Rich, the former BYU star who famously walked away from the game despite NFL interest, well … you're forgiven.
White had two interceptions, including the game-sealing pick off a tipped pass from Ty Detmer in an amended overtime to help the Navy team to a 26-20 win over the Royal team.
"I love that they're doing this, and really embracing the alumni, bringing us back," said White, who lives in Lehi and works in tech sales. "It's great to have the fans back and to see guys like Ty Detmer, John Beck, and some of my heroes growing up was pretty special."
Beck completed 24-of-34 passes for 235 yards and three touchdowns in the seven-on-seven, one-hand touch simulation with no pass rush, including a dish to Hoffman — who had 100 yards on eight catches — in overtime to give the Navy team a 6-point advantage.
Royal had one last chance to win or tie. Detmer, the only Royal quarterback left after Max Hall limped off with an Achilles' injury, completed 14-of-22 passes for 187 yards, two touchdowns and two interceptions.
But the former Heisman Trophy winner playing in the stadium for the first time since he was offensive coordinator from 2016-17, fluttered a pass that was tipped into the arms of White to seal the victory in similarly dramatic fashion as last year's walk-off touchdown from Hall to Bryan Kehl.
Friday's roster had some of the same players from a year ago — Brian Logan was involved both years, as was Criddle, and Byron Rex made a return both to play for Team Royal as well as to visit his sons Isaac and Preston on the current BYU roster.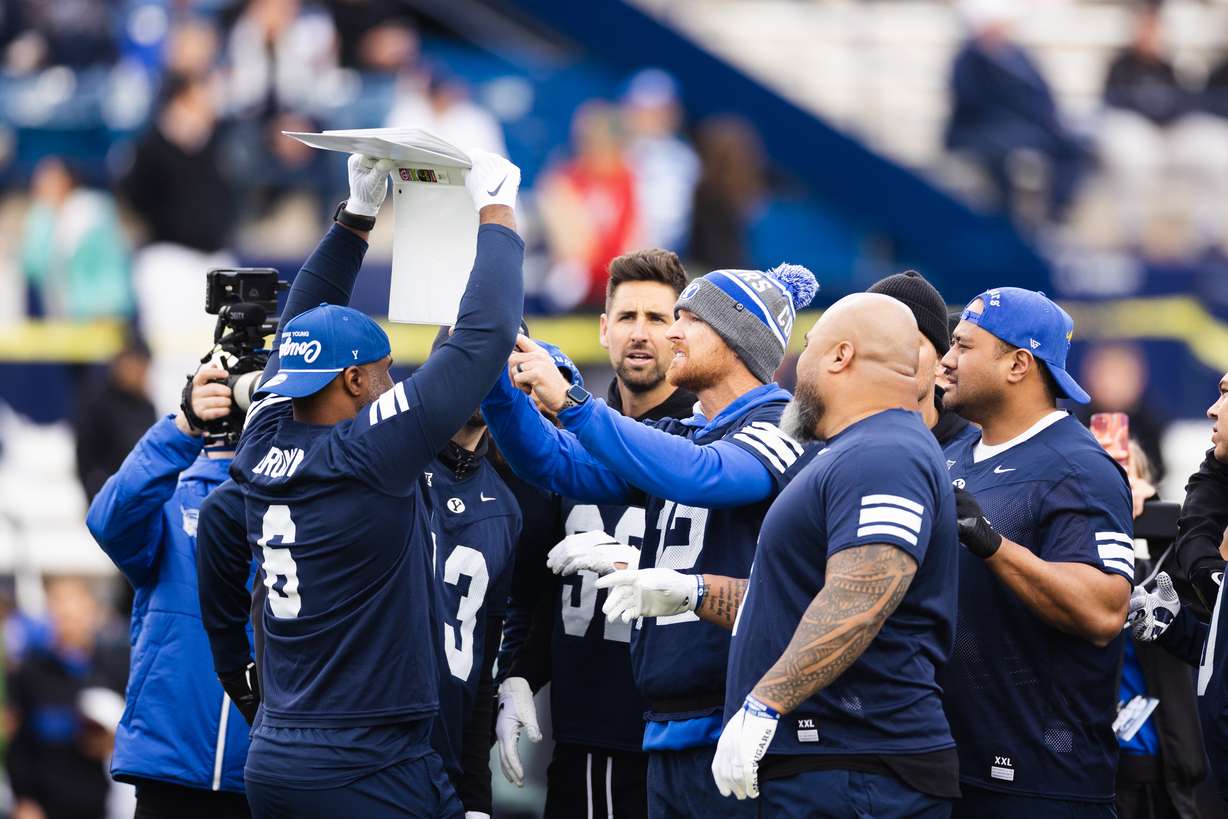 But it also had a number of new players, like Detmer, Beck and wide receiver Austin Collie, to rotate around the chance to play at LaVell Edwards Stadium
"To all those guys who haven't played yet in this game, I remember sitting in my garage last year watching this, and it looked like a lot of fun. I'm so glad I got to do it this year," Beck said. "If they havent' done it yet, they need to come back and experience it, because to stand on the field with your teammates playing football again was awesome. This was great."
The game was the culmination of a day filled with reunions and meetings, a chance to reunite and come together as a group of 300 alumni in a now-annual event that is becoming something of a tradition on general conference weekend at the school owned and operated by The Church of Jesus Christ of Latter-day Saints.
It was also a chance for Beck to go viral on Twitter, when he showed up wearing Jordan 11 cleats that BYU fans raved when they were shown on the BYUtv cameras — aided by part-time sideline reporter and full-time free-agent linebacker Kyle Van Noy.
"That was all Dak Prescott," Beck said of the footwear. "I told Dak I was going back to play in this alumni game, and it would be sweet to have some Jordans.
"He sent me a couple of pairs, and my 11-year-old son Grady told me I had to go with the 11s. The amount of people were like, 'whoa, those are cool' was funny. But it's all thanks to Dak."
But for all the flashy footwear and offensive playmaking, the game ultimately came down to defense — similar to the current roster's spring scrimmage that preceded it.
Not that Rich … errr, the safety wearing his jersey … would disapprove.
"I'm excited," White said. "I've heard really good things; I was talking to Gavin (Fowler, defensive assistant) today, and he's loving the aggressiveness. They're having a great camp, and I think it will be great for the defense."