Utah minority homeownership outpaces national averages, lags behind white homeownership
(Scott G Winterton, Deseret News )
SALT LAKE CITY — Most Utahns of color are more likely to own a home than individuals from similar ethnic and racial backgrounds in the country.
But homeownership rates among minority populations still lag behind the rate of Utah's white population — particularly among the Black community, which has the lowest homeownership rate in Utah, by far, and is the only racial or ethnic group in the state to fall below national homeownership rates.
That disparity translates to Utah having the country's 12th-largest racial homeownership gap — defined as the difference between the white homeownership rate and that of the racial group with the lowest rate. While 73% of white Utahns live in a home they own, only 30.9% of Black Utahns do.
Meanwhile, 65.9% of Utah Asians live in a home they own, as do 58% of multiracial Utahns, 57.7% of American Indians, 57.5% of Hispanics and 54.6% of Pacific Islanders.
James Wood, a senior fellow at the University of Utah Kem C. Gardner Policy Institute, has decades of experience researching Utah housing. He said the homeownership rate gap between white Utahns and Utahns of color is likely related to a variety of factors ranging from historical policies, like redlining to contemporary inequities in health care and education. Redlining is a discriminatory practice of denying services like mortgages and insurance loans to residents in certain areas based on their race or ethnicity.
"It's probably related to educational attainment, the neighborhood they grew up in, the income of their parents and their household," Wood said. "It's all of those factors combine to determine where a household is, presently. You have to trace a couple of generations and see where they've been disadvantaged."
Wood's research of 2010 U.S. Census data found that Salt Lake County neighborhoods with higher concentrations of minority households often coincided with food deserts, less access to public transportation and underprivileged schools.
"They're disadvantaged, there's just no doubt about it," he said. "It makes a big difference what your zip code is, as people say. It makes a big difference in terms of proximity to employment and transportation, housing, education — all that stuff. If you can't get out of that and you're in that for a generation, it takes considerable more effort, I think, for someone to break out of that cycle and those neighborhoods than for those of us who get raised here in Salt Lake, say on the east side and just kind of float along with green lights most of the time."
Closing the homeownership gap between white and minority populations, Wood said, would require policies targeting things like affordable housing and education, health care and public transportation in disadvantaged, low-income neighborhoods. He pointed to a recent Colorado referendum that earmarks $300 million annually for affordable housing as an example.
"That's the sort of effort you need to really make a difference," Wood said. "We work around the edges and that's why everybody's been doing this for a long time and nibbling at the edges of this affordable housing issue. You get a 12-plex here, some new condos there that are affordable, but when you do something like that — and earmark ($200 million) a year ongoing for affordable housing — it's an absolute game-changer and would affect the housing gap."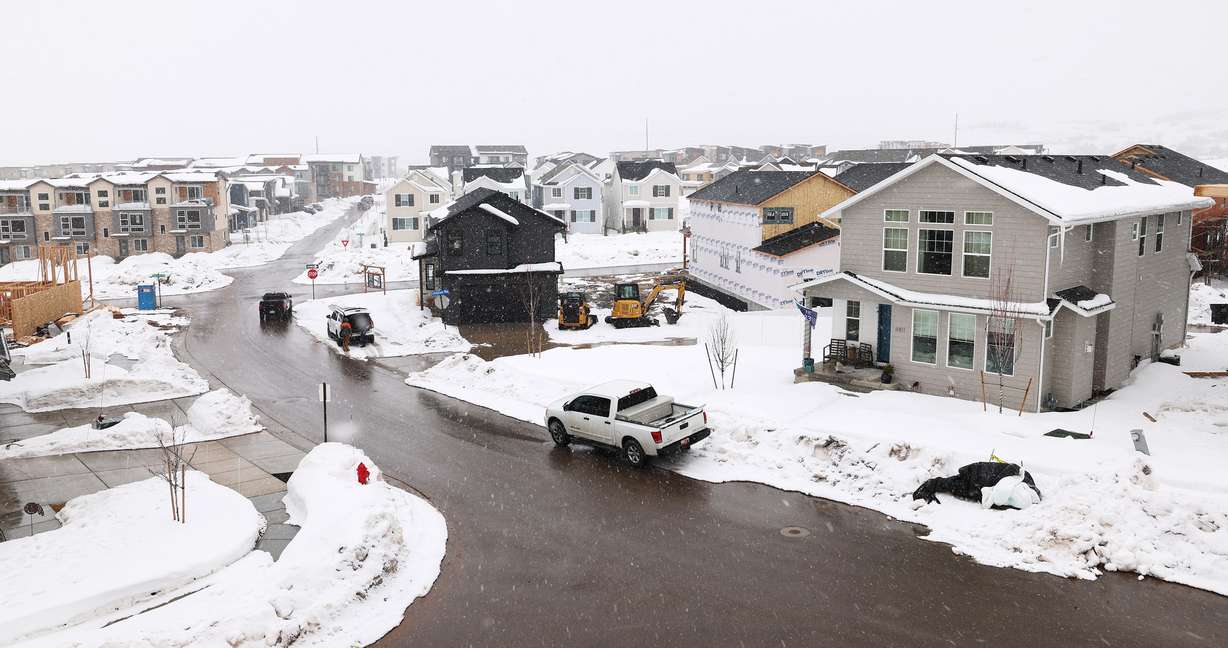 Solo Tuiaki, a Tongan American realtor who grew up on Salt Lake City's west side, has found his niche working with first-time homebuyers from marginalized communities. He said there's often a knowledge gap among communities of color regarding the homebuying process and that it should be up to experts to find ways to meet communities where they are and break down the process in a way that's accessible.
"It's definitely not a normal conversation at the dinner table for minorities," Tuiaki said. "Those are conversations that I'm having with minority couples or adults that I'm helping. It's crazy to me because some of them are 10-20 years older than me, but it's still almost like a foreign language to them when I talk about credit-building and I talk about other options that they possibly could have taken had they known other routes. But it's just because we aren't as educated or we aren't asking the questions that need to be asked to get us to becoming a homeowner."
Tuiaki added that a lack of knowledge can also lead to distrust, as families worry about being scammed on such an expensive investment. He said many of his clients feel more comfortable working with a realtor from a similar background as themselves.
"It's not that anyone is racist, it's just that there's a comfortability level of like, do I know you on a personal level? Do I know the type of character you have? Do I know the people you associate yourself with? Do I know the family you come from?" Tuiaki said. "I would say it's a barrier for minorities to want to purchase a home because — language is always going to be a barrier — but it's definitely hard to find that connection on the business side of things."
Changes over time
Breaking into homeownership can seem unattainable for many in the midst of Utah's current housing crisis. But Tuiaki hopes some of those barriers will be broken as more people of color get involved in the real estate industry and are able to build connections for communities of color. He encouraged people to take a leap of faith; and, at least, take the first step of sitting down with an expert to find out what it takes to buy a home.
"I've had clients in the past that just felt so inadequate of being a homeowner because they thought it's never going to be in the picture, that you have to have $100,000 to be able to buy a house, have a 700 credit score and be with your job for at least 10 years — a lot of these myths that aren't true when purchasing a house," he said.
Wood said that although younger generations are being priced out of homeownership, there are some encouraging developments. In fact, Native American, Pacific Islander, multiracial and Hispanic populations have seen significant increases in homeownership rates during the past decade.
"We're going to have less homeownership over time, whether it's white or whatever racial group — just because of the cost of housing," he said. "But despite what we went through with the pandemic and also the housing boom in the 2010s, we have homeownership rates have actually improved for three racial groups. To me, that's encouraging and surprising that, for example, Pacific Islanders are more likely to own a home now than they were 10 or 11 years ago and that their homeownership rate is well above the national average."
He added it's also encouraging to see local lawmakers get involved in housing, pointing to the passage of SB240, which created Utah's First-Time Homebuyer Assistance Program. Under the program, new homebuyers with low and moderate incomes are eligible for a loan — for up to $20,000, to be paid back when the house is sold or refinanced.
"This is the first in some time where the Legislature has gotten involved in the issue of housing," Wood said. "We're moving in the right direction. For a long time it was just stasis, nothing happened."