Following record snowpack, here's how full Utah's reservoirs are through mid-August
SALT LAKE CITY — This year's record snowpack is still flexing its muscles many months later, as Utah's reservoirs remain well above normal levels with about two months left in the typical irrigation season, state water managers say.
The Utah Division of Water Resources provided an update on the state's water situation Monday, pointing out that its reservoir system remains at about 81% capacity, well above the median capacity level of 64% for mid-August. Utah's reservoirs had fallen to about 50% capacity this time last year as the state continued to deal with severe drought.
The reservoir system topped out at almost 86% capacity in July, jumping up from a low point of 42% in November 2022. Utah ended up with a record-breaking snow water equivalent of 30 inches during the winter and spring, which drastically changed its water supply situation this year.
In fact, Utah ended July still on pace for its 19th wettest water year since 1895, according to National Centers for Environmental Information data.
"Our water managers executed an exceptional balancing act to start the irrigation season with reservoirs at full capacity. Water was released from reservoirs before the irrigation season, which enabled them to capture the water from this year's record-breaking snowpack," said Candice Hasenyager, director of the Division of Water Resources, in a statement.
All but five of Utah's biggest reservoirs are listed at 60% capacity or higher, including Flaming Gorge, which is now up to 88% capacity. Lake Powell, at 37%, is among the five reservoirs below 60%. Lake Powell reached an all-time low again earlier this year, as it fell to about one-fifth capacity during the winter.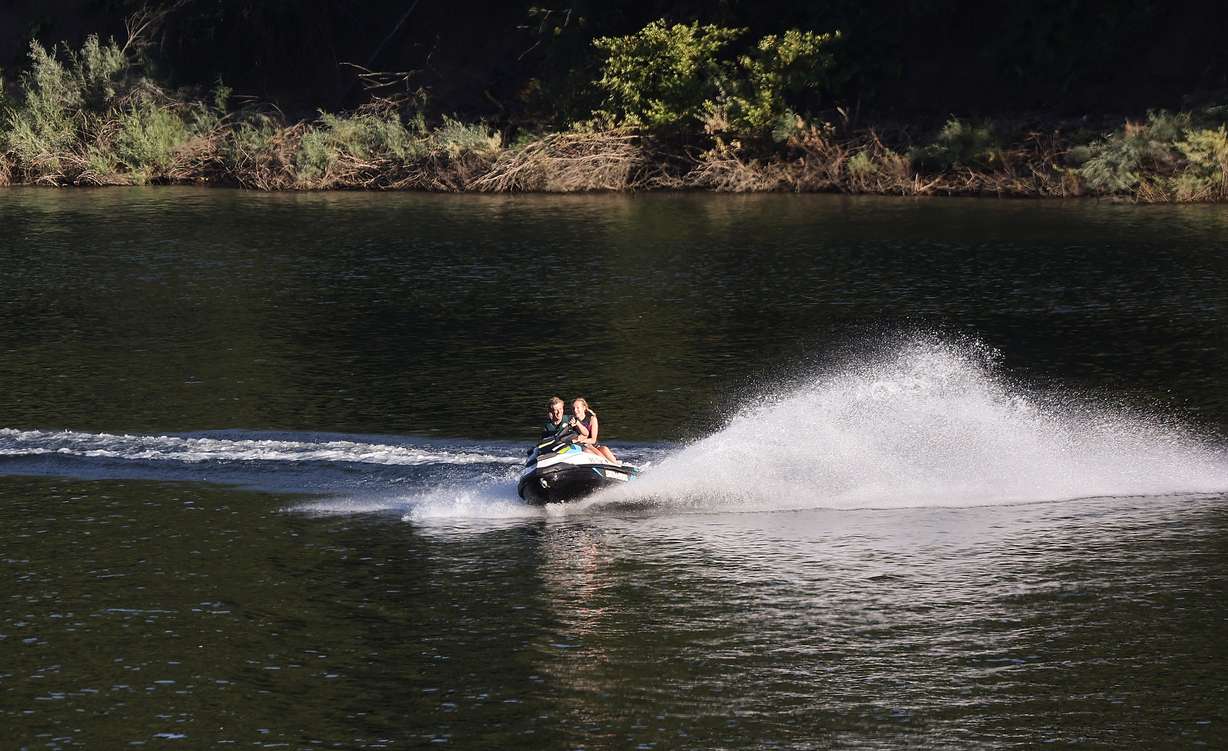 Flaming Gorge and Lake Powell are not included in the statewide capacity figure. Utah's irrigation season typically ends by mid-October, which is when water consumption begins to slow down.
Meanwhile, the Great Salt Lake is now listed at 4,192.9 feet elevation, about a foot below its high point this year. The lake rose about 5½ feet from the snowpack runoff.
Monday's update comes as Utah is slowly slipping back into drier conditions, although none of it is as bad as the last few years. About 16.5% of the state — primarily in south-central and southeastern Utah — remains in moderate drought, while another third is considered "abnormally dry."
Only 9.7% of the state was listed in moderate drought, while a slightly smaller section of the state was listed as "abnormally dry" last month, according to the agency. All parts of the state experienced at least moderate drought by mid-August last year, including 80% listed within extreme drought conditions.
Given the uncertainty of the upcoming winter, Hasenyager reiterated the need for water conservation so that the state can rely on the water it has for a longer period of time.
"Taking care of our water resources is vital, and this year's remarkable achievements highlight the importance of effective water management practices after this year's record-breaking winter," she said. "By embracing sustainable measures and remaining vigilant, we can continue to secure a resilient water supply."