Why Outdoor Retailer will look smaller this week; big changes coming for 2024 shows
(Carter Williams, KSL.com)
SALT LAKE CITY — Scores of crews were hard at work inside the Salt Palace Convention Center Monday, assembling booths and putting the final touches together for Outdoor Retailer's third and final show of the year.
This week's event will look and feel smaller than previous events in recent history. Sean Smith, Outdoor Retailer's show director, said about 1,600 attendees were preregistered for this week and the company is using about half of the convention center space that it typically does. The show's website lists more than 200 brands lined up to attend.
This is much smaller than the Outdoor Retailer 2023 Snow Show, which brought in more than 6,000 attendees, including 1,600 retail buyers, importers or distributors and 400 exhibiting brands. Its summer show brought in over 7,500 attendees.
This week's exact turnout is hard to say. An Outdoor Retailer spokesperson clarified that the final number usually fluctuates from any estimates based on vendors who show up or pull out at the last minute.
But this week's dropoff was also expected.
The 2023 Winter Show is the first time that Outdoor Retailer has held the event ahead of the holidays, which is also why it's in town for the third time this year for the first time. The event debuted in 1990 and was typically held in January any given year.
Organizers picked January because it's the peak time for winter hard goods like boards, bindings, boots and poles. Smith explains that they started looking at a change because winter soft goods companies — the ones behind apparel, gear and other similar products — were holding events in November ahead of the next winter season product demand.
The move allows both sides of the product sphere to be at the same event. The only problem is many companies didn't budget for having representatives travel to three shows in one year.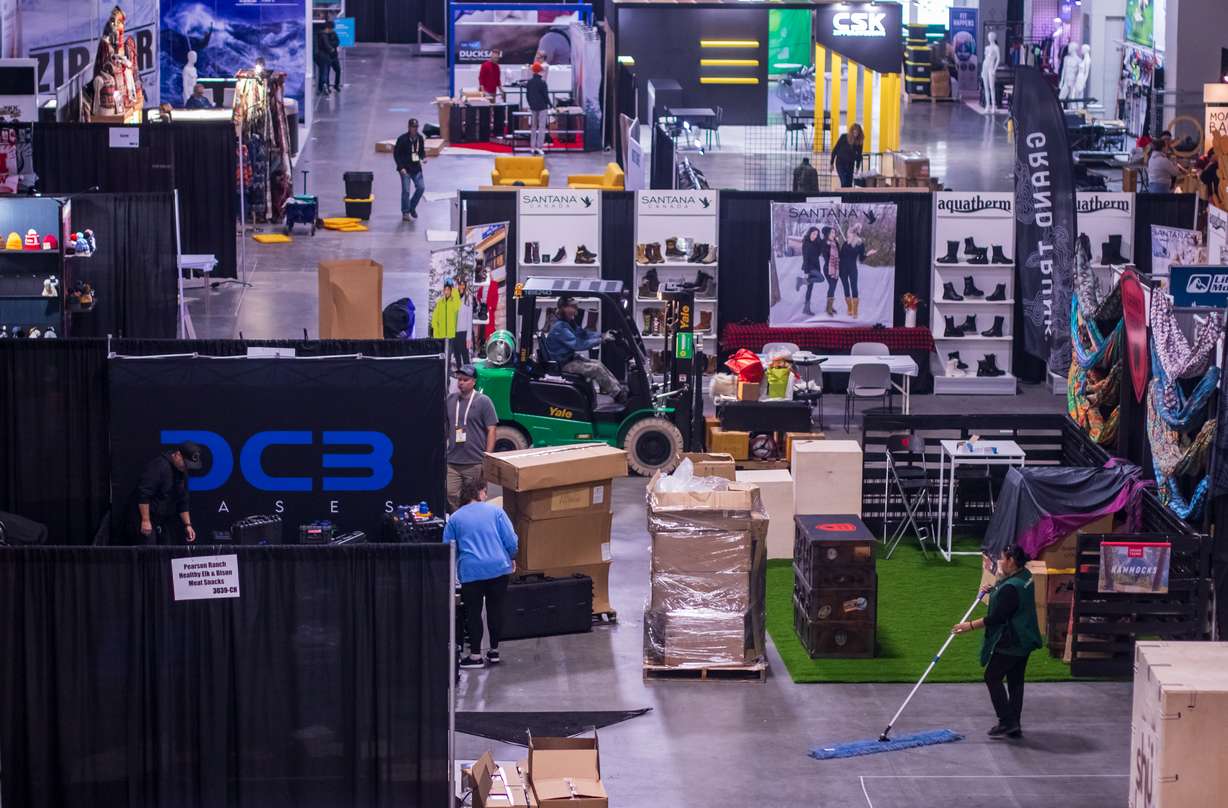 Smith said small and medium-sized brands with more budget flexibility and more to gain are the primary retailers expected to show up this week, giving more exposure to resorts, specialty retailers and big box stores than usual.
"Even though it's a smaller show, we have a great turnout coming for Retailer. It just (proves) that the November buying time is a much better move for us," he told KSL.com, adding that he expects the regular winter turnout will return in November 2024 as Outdoor Retailer returns to a two-shows-a-year model.
New event coming in 2024
Event organizers are also already planning for big changes that will take effect next year.
Emerald, Outdoor Retailer's parent company, announced Monday that it will launch a "reimagined and expanded sourcing event" called the Outdoor Design + Innovation Show, which will coincide with the two Outdoor Retailer shows planned for the Salt Palace Convention Center in 2024.
The new addition intends to bring in domestic and international raw material suppliers and businesses, which can provide brands with the latest updates in everything from textiles, fabrics and fibers to composites, coatings and product hardware. This, organizers say, has the potential to turn new trends and ideas into "functional" outdoor goods.
"Outdoor Design + Innovation offers more opportunities for product designers and developers to better understand emerging trends and best-in-class sourcing solutions, and it creates a streamlined business environment for focused conversations," said Jeff Davis, vice president of the California-based Emerald Group, in a statement.
The event will essentially split Outdoor Retailer into two sections starting next year, Smith said. As brand leaders meet with buyers and retailers to get into stores, the brands' designers and developers can meet with manufacturers over the newest material trends to develop into future products.
"It's kind of like a closed-loop system, where you've got everything they need to go and innovate in their product design and then be able to sell that product the next year or season or two," he said.
Smith adds that Outdoor Retailer will also implement a new exhibit size cap and other changes that aim to help retailers reduce the cost of attending the event. Both the Outdoor Retailer and the Outdoor Design + Innovation Show events are scheduled to be held in Salt Lake City in June and November 2024.
Emerald brought Outdoor Retailer back to Utah this year after a five-year stint in Denver, moving from Utah to Colorado in 2018 over issues with Utah's land management policies brought up in 2017. The company announced last year it is bring Outdoor Retailer back to Utah with changes in the event format to include more outdoor and climate policy discussions.
Some of the biggest outdoor retail brands like Patagonia, REI and North Face pledged to boycott the event if it returned to Utah, and have since followed through on that.
This week will mark the third straight show that those companies have skipped.