How much did Utah's record snowpack help the Great Salt Lake?
Jul 3, 2023, 7:04 PM | Updated: Jul 25, 2023, 11:05 am
Editor's note: This article is published through the Great Salt Lake Collaborative, a solutions journalism initiative that partners news, education and media organizations to help inform people about the plight of the Great Salt Lake.
SALT LAKE CITY — The Great Salt Lake's water levels fell to an all-time record low for the second-consecutive time a year ago this week.
One year later, the lake is starting to decline again — but it's undoubtedly in a much-better place than it was those 12 months ago. The lake entered this week at 4,193.8 feet elevation at the Great Salt Lake State Park marina, more than 3½ feet above lake levels this time last year and 5 feet above the officially recognized new record-low of 4,188.6 feet set in November, according to U.S. Geological Survey data.
The agency's data indicates that the Great Salt Lake topped out at about 4,194.1 feet elevation in mid-June this year, as Utah's record 30-inch snowpack — some of which was shepherded into the lake to avoid flooding risks — melted into its tributaries. It gained about 5½ feet above the all-time record low before its gains began to level off.
"I think we are getting close, if we already haven't gotten to that point where runoff into the lake has started to slow down and evaporation has started to pick up," said David Parrott, a microbiology professor at Westminster University and assistant director of the school's Great Salt Lake Institute. "I would say that we're close to max, maybe starting to go down just a little bit … on sort of that downward slope."
The record snowpack also helped salinity levels within the Great Salt Lake's southern arm drop to about 13.2% at nearby Gilbert Bay in June. It had climbed to nearly 19% at both the bay and the marina as the lake levels dropped, posing a threat to the lake's ecosystem.
While this year's water surge was extremely beneficial for the lake, Parrott points out that the current lake levels are about 4 feet below the low-end estimate of what the lake needs to be considered healthy. It's also 6 feet below its historic average of about 4,200 feet, which Parrott refers to as the "sweet spot" when it comes to a healthy lake ecosystem.
"(The lake's rise) is good news, but we're not out of the woods, at all," he said. "We still need to be thinking about the lake. … It would be a mistake for all of us to think 'everything's great now.'"
Trying to reach the 'sweet spot'
The Great Salt Lake's levels, as of Monday, are significantly better than they were at the same point the last two years — they're closer to the average of the past decade; however, the levels are nearly 4 feet below the average since 1990. The lake, over the past three decades, typically entered July at about 4,197.6 feet elevation.
Local experts believe this winter tacked on two additional years to a grim forecast that the lake would reach levels so low that its ecosystem will essentially die off in five years. It's enough to refill parts of the lake but hasn't completely stopped storms from blowing dust into communities lining the lakeshore.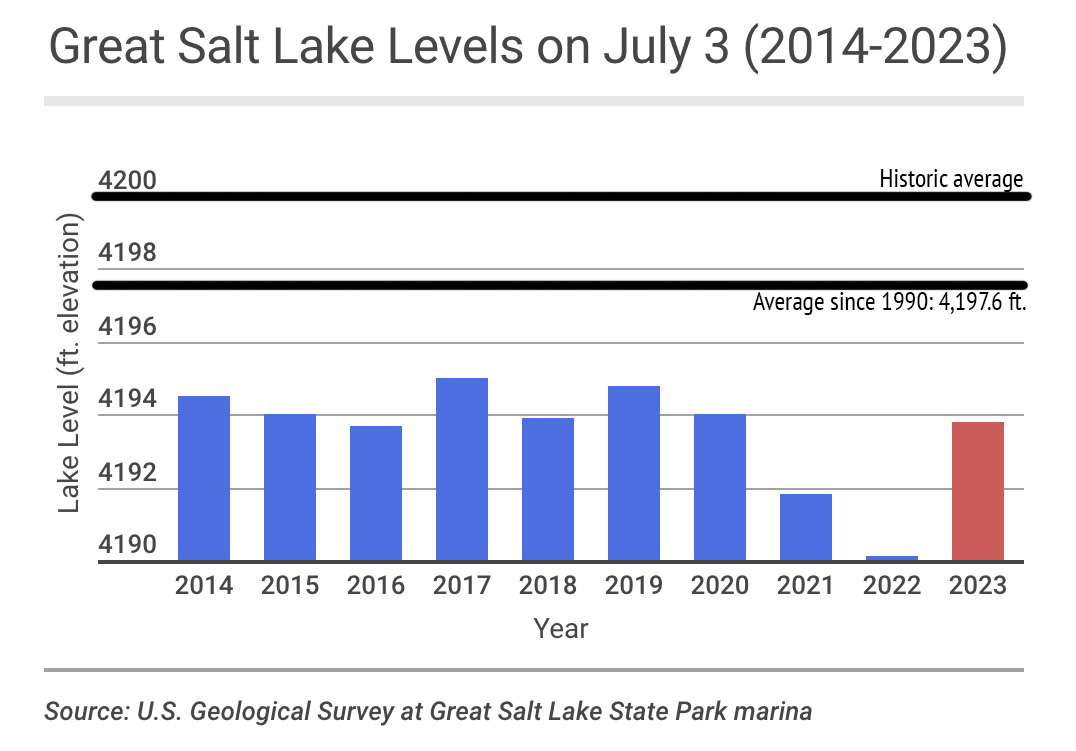 The lake's levels are expected to slide more this summer because of two factors outlined in a report issued by the Great Salt Lake Strike Team in February. It found consumptive use accounted for anywhere from 67% to 73% of the lake's decline, while direct evaporation accounted for another 8% to 11% of the lake's water loss, over time.
With the irrigation season in full swing and more hot, dry, sunny days expected throughout the summer, Parrott estimates the lake could end up losing about another 2 to 3 feet through November. That's what normally happens to the lake in the summer before it refills again in the winter and spring. This could be reduced if more cloudy days develop over the lake, as what happened in May and June, which would reduce solar radiation.
"It's a typical thing now that we're going to start really heating up," he said, noting that increases in temperature could possibly put the lake at "suboptimal" levels by the end of the year.
What the lake needs next winter
The lake likely needs another three prolific winters to really get back to that "sweet spot," Parrott said, with a nervous chuckle. That's a tall order, considering this past winter was just the seventh time that Utah's statewide snowpack surpassed 20 inches since 2000, the start of the Western "megadrought."
It's far too early to know what's in store next winter, other than it's more likely than not that North America will have an El Niño winter after the past three consecutive La Niña winters. This doesn't mean much in terms of precipitation in Utah because it normally experiences winter extremes no matter what the oceanic pattern is. But an El Niño winter can lead to warmer-than-normal temperatures in northern Utah, including parts of the Great Salt Lake basin.
"If that means a corresponding decrease in snowpack, that could mean less runoff," Parrott says. "We could go back into a cycle where we're struggling again with the lake."
The winter outlook will be a bit clearer closer to November, which is when the National Weather Service's Climate Prediction Center releases its long-range forecast for the season.
In the meantime, Parrott said he hopes Utahns will continue to conserve water because of all the unknowns moving forward. That means being more efficient with irrigation water and cutting back on water waste, if not reforming the entire water regulation system. This, he said, is a good practice not just to help the Great Salt Lake, but to help stretch out the state's water supply through other dry spells that may develop in the future.
"We live in a high desert … so water is always a scarcity. The Western United States has always had water issues," he said. "What we need to think about is that we all need to do our part to reduce overwater consumption."