Animal activists not guilty after taking piglets from Utah farm
Oct 8, 2022, 7:39 PM | Updated: Nov 18, 2022, 11:54 pm
(Direct Action Everywhere)
ST. GEORGE, Utah — A jury returned a not-guilty verdict on all counts Saturday for two men accused of taking sick piglets from Circle Four Farms in Milford, Beaver County, in March of 2017.
The case was presented to the eight-person jury Friday night and the panel returned on Saturday and spent most of the day deliberating, and announced the not-guilty verdict shortly before 5 p.m.
Taking the pigs was part of a larger effort by Direct Action Everywhere to expose issues concerning the treatment of livestock at what they said is the largest pig farm in the world, owned by Smithfield Foods.
Wayne Hansen Hsiung and Paul Darwin Picklesimer were each charged with two counts of burglary, a third-degree felony, and one count of theft, a class B misdemeanor. One of the counts of burglary against each of them was dismissed by the judge during the trial. The two men were found not guilty by the jury on each of the other counts.
On July 6, 2017, the Beaver County Sheriff's Office and the FBI were notified of pigs being stolen from farms owned by Smithfield Foods — taken from the property about four months previously. A Smithfield Foods employee also told authorities that video of the theft had appeared in a New York Times article, according to charging documents.
Initially, five animal rights advocates were charged, but three of the defendants reached plea deals before their cases went to trial.
The jury trial, which was moved to St. George to obtain a larger jury pool, began with opening arguments Tuesday afternoon and was given to the jury at about 8 p.m. Friday.
Pre-trial attention
Direct Action Everywhere worked to pull broad attention to the trial, renting a theater for animal rights supporters to watch it in St. George, holding rallies prior to the trial, sending out regular press releases to draw attention and posting on a Twitter account about the trial that had over 2,000 followers by Friday.
The organization said over 150 people came to Washington County to support Picklesimer and Hsiung. They said the trial was moved from Beaver County to Washington County because "activists faced threats of violence and intimidation from local authorities."
Prior to the trial, the animal rights group had a presence at the Pioneer Day celebration in Beaver to bring attention to the trial. In a video shared by Direct Action Everywhere on YouTube, Beaver sheriff's deputies are seen confronting them and asking them if they are aware they caused a problem in the community and had an influence in Smithfield Foods shutting down.
"There's a lot of people that have lost their jobs. And you come into this community and pour salt into the wounds of the people that have lost their jobs," Sgt. Warren Woolsey said in the video.
He asked the Direct Action Everywhere representative to leave and to stop pointing a camera at a volunteer officer, but the man, Curtis Vollmar, argued that he had a First Amendment right to be there.
After that encounter Vollmar was cited for disorderly conduct and Direct Action Everywhere, along with Vollmar, the Utah Animal Rights Coalition and others, filed a federal civil rights lawsuit against Beaver County and the officers.
During the Monday Night Football game this week, a protester with a shirt displaying "right to rescue" rushed onto the field with a device emitting pink smoke. He was tackled by Bobby Wagner, a Los Angeles Rams quarterback. Direct Action Everywhere took credit for causing the scene, and told TMZ it was to raise awareness of this trial.
This week's trial
The video created by the company, which directly shows Hsiung taking the pigs and talking about why he took them, was not allowed to be shown at the trial after 5th District Judge Jeffrey Wilcox determined that conditions on the farm shown in the video is not what the case is about. The video, called Operation Death Star, shows a 360-degree view of the team from Direct Action Everywhere, led by Hsiung, going through the facility.
Previous orders in the case also prohibited both sides from speaking about the conditions of animals in general at the farm — requiring testimony to only discuss the conditions of the two piglets that had been taken.
The jury trial for Hsiung and Picklesimer stretched throughout the week, and was filled with objections from the attorneys in an attempt to keep the trial within the parameters set by the judge. Mary Corporon, who represents Picklesimer, and Hsiung, representing himself, would argue that certain steps taken by the state should allow them to bring in more information about the farm conditions, including showing the video.
Janise Macanas and Von Christiansen, Beaver County attorneys, objected when a witness started talking about other conditions, specifically about a dumpster on the farm with dead piglets inside or the mother pig's health.
Testimony was offered by veterinarians chosen by both sides, an investigator, a Smithfield employee and a man who was part of the same undercover operation of the farm in 2017.
After all of the testimony in the case had been offered, the judge issued a directed verdict dismissing the first count against both Picklesimer and Hsiung. Corporon argued that each of the burglary counts was specific to a building, and that the two defendants did not expect to see piglets in a gestation barn — meaning they would not have been entering the barn with an intent to steal.
There was also a discussion about a possible mistrial. Hsiung and Corporon argued that the prosecution asking a state veterinarian about care for the pigs at the farm opened the door for them to bring in new evidence about the conditions of the farm. The prosecutor said that was simply an effort to show that the two specific piglets would have had a chance of receiving medical care that next day.
The judge said bringing in that much new evidence at the end of the day on the last day of trial was not an option.
"I'm not going to open up testimony again in this case, and if we need a mistrial, we'll have one," Wilcox said.
Ultimately, Corporon and Hsiung decided to continue with the trial, after the state's attorneys agreed with asking the jury to not take into account that testimony.
Hsiung's testimony
On Thursday, Hsiung called himself to the witness stand, asking himself questions and then opening himself up to questions from the other attorneys. While questioning himself, he admitted to taking the piglets, but said it was not theft because he took piglets that were of no value to Smithfield.
Hsiung said the case is not about burglary and theft but about animal cruelty and animal rescue. The two piglets were given names after they were taken from the facility, Lilly and Lizzie, and he spoke about their conditions.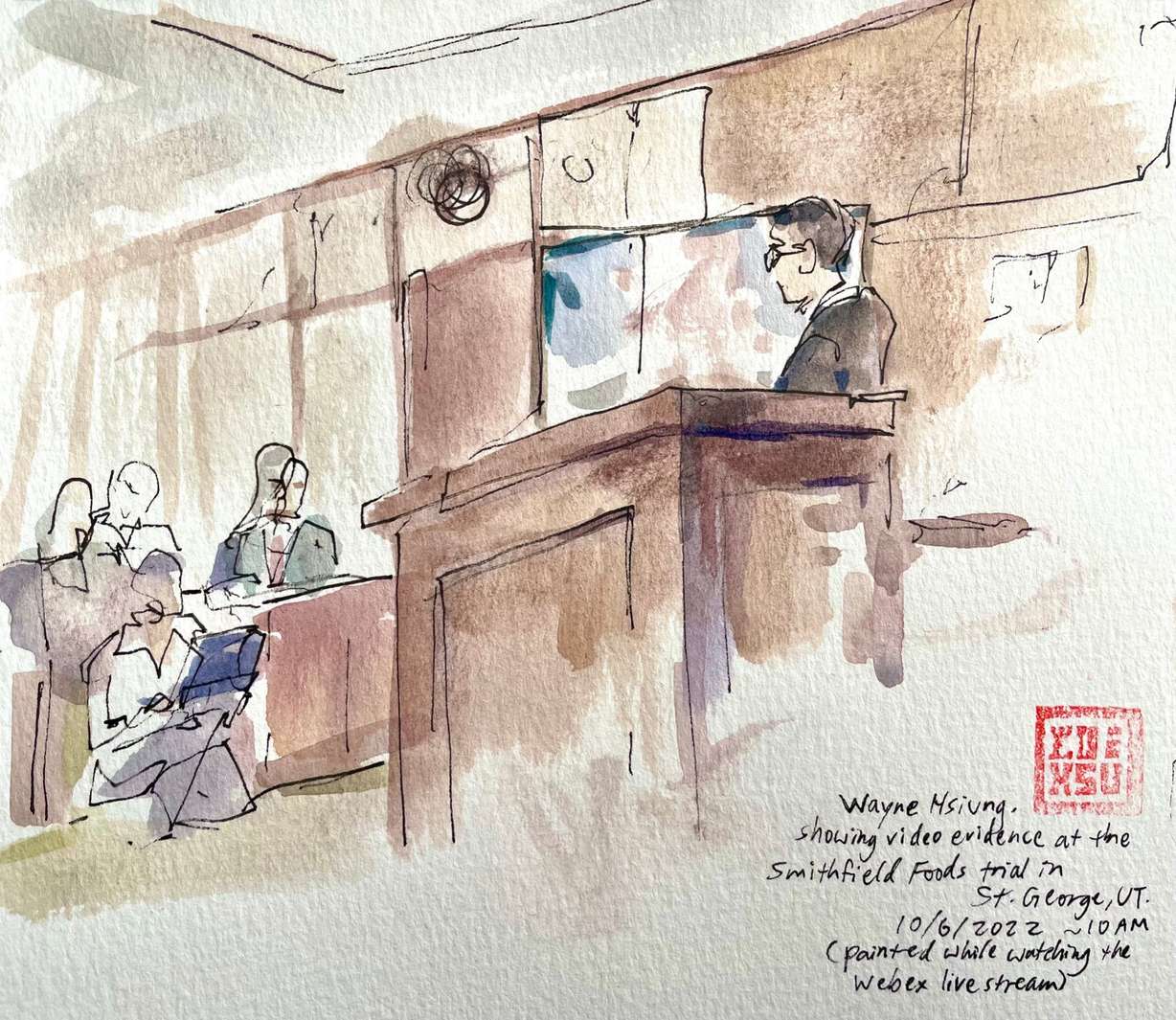 Although he said they did not intend to take piglets, during his testimony he admitted they had a veterinarian on hand in case they brought out animals and that they had evidence that there were animals dying on the farm. Hsiung said they had taken animals in the past during similar operations, sometimes with the owner's permission.
He argued that he had a belief that the piglets were abandoned property, and prompted witnesses to testify that the piglets were more of a liability to Smithfield and he may have been helping them by removing the piglets from the property. Ultimately, though, he said the purpose was to save the piglets from "certain death."
"We were not there to be burglars or thieves," Hsiung told the jury. "We were there just to give aid to dying animals."
Closing arguments
On Friday evening, Christiansen claimed Hsiung admitted to taking the animal, but attempted to minimize his crime with contradictory testimony. He said Hsiung testified that he didn't intend to take a pig, but in the script of the video shared at trial, Hsiung said, "If we see an animal we can take out, we'll take them out."
He talked about how Hsuing and the rest of the group went into the facility on March 6 and March 7, but did not take any animals on March 6. Christiansen said this shows they were not just taking piglets that needed emergency care but were taking pigs as part of a publicity move.
"The pigs were just props in a video, props in a movie," Christiansen said.
He said the animals were alive and did have value, and any evidence of poor health displayed at trial is speculation.
Christiansen also talked about the charges for Picklesimer, and said holding the camera was a very important role in the burglary, allowing Direct Action Everywhere to produce a video and raise donations.
"Every person that participated in the burglary that night was part of the crime," the prosecutor said.
Picklesimer's attorney, however, said he did not even touch a pig, and did not intend to commit a theft and should not be held accountable for something he didn't do.
She told the jury if they do believe Picklesimer might be guilty based on being part of the group, the should directly consider the worth of the piglets to Smithfield.
"Bottom line these piglets are worth nothing, it's a net negative," Corporon said.
She said what Picklesimer did was like standing next to someone else who was emptying a trash can.
Hsiung presented his arguments last, making a plea to the jury to consider their feelings and recognize a difference between stealing an animal and helping an animal.
"We did not intend to take a piglet out who had anything of value for Smithfield," Hsiung said, arguing that these two piglets did not have any commercial value.
He told the jury he did not want to be acquitted based on a technicality, but hoped they would make a ruling that would make a difference to animal rights.
"If you defend our right to give aid to dying animals, defend the right of all citizens to aid dying and sick and injured animals, there's somethings that will happen in this world. Companies will be a little more compassionate to the creatures under their stewardship. Governments will be a little more open to animal cruelty complaints. And maybe, just maybe, a baby pig like Lilly won't have to starve to death on the floor of a factory farm," Hsiung said.
He argued that theft and burglary are not the right way to charge him in this case, and suggested different steps should be taken to address actions like this, including companies and governments listening to their suggestions or charges for trespassing.
Ag-gag laws
Between 2012 and 2017, a law in Utah known as an ag-gag law made it illegal to do an undercover investigation exposing animal abuse at agricultural facilities. It criminalized lying to obtain access to an agricultural operation, filming without permission or while trespassing and bugging an agricultural operation.
However, on July 7, 2017, that law was declared unconstitutional by U.S. District Judge Robert Shelby.
"Utah undoubtedly has an interest in addressing perceived threats to the state agricultural industry, and as history shows, it has a variety of constitutionally permissible tools at its disposal to do so. Suppressing broad swaths of protected speech without justification, however, is not one of them," Shelby said in the order.
Only one person was ever criminally charged under Utah's law, according to the order. Amy Meyer was arrested after filming what looked like a bulldozer moving a sick cow — however, she was on public property and the case was dismissed. Meyer filed the lawsuit along with animal rights organizations who have challenged similar lawsuits around the country.
Since this law was found to be unconstitutional; Smithfield and the state of Utah did not have any legal recourse against the actions of Direct Action Everywhere members publishing what they saw at the farm four months before the ruling.