Alpine School District exploring potential closure of 5 elementary schools
AMERICAN FORK, Utah — As the doors of five elementary schools in Alpine School District may be closing for good at the end of the school year due to seismic concerns, some parents at a meeting on Tuesday expressed fears about their children's educational future.
"Knowing there's going to be another elementary school built in southwest Lehi at some point in the near future, I believe the less we shift these children around, the better," Amanda McAllister, whose child attends Lehi Elementary — which is among those slated for closure — told the Alpine Board of Education.
Utah County voters in November voted against a proposed $595 million bond that would've gone toward building new schools and repairing existing ones in the district.
During the district's Nov. 29 board meeting following the election, the board requested a districtwide boundary study to explore possibilities around restructuring or consolidating boundaries and evaluating school buildings, said David Stephenson, executive director of external relations and communications for the district.
In early December, the district sent a letter to parents notifying them that since the proposed bond failed, they would be initiating a boundary study.
Notably, Stephenson said that the buildings the district aimed to address through the bond funds are all on the Utah K-12 Public Schools Unreinforced Masonry Inventory, making the buildings seismically unsafe in the event of what some experts say is a looming earthquake.
The results of the boundary study proposed that Lehi, Valley View, Lindon, Windsor and Sharon elementary schools — all of which are in the unreinforced masonry inventory — be considered for closure.
"This was based on, again, they're older schools and they're on that seismic unreinforced masonry inventory," Stephenson said. "In addition, we looked at neighboring schools and whether or not there was space available if we were to do some consolidations and boundary adjustments for these students to be able to be assimilated into neighboring schools."
The board determined that it would be possible, and Stephenson said that now the district is exploring some of those possibilities and gathering feedback from parents.
Utah law requires school districts to open up time for public comment at board meetings and hold a public hearing on the matter, which the district has scheduled for April 18.
Additionally, the district is hosting open houses for parents and community members to share feedback and also has an online option for doing so. A schedule of the open houses and links to submit feedback can be found here.
"We've received more than 1,000 different individual pieces of feedback so far and the school board is reviewing that feedback," Stephenson said. "Again, no decisions have been made at all so we're just in that feedback process and reviewing these proposals with our public."
So far, Stephenson said, the response from parents has been mixed.
"It's kind of a moral dilemma that the board is faced with because of the potential for an earthquake in the state of Utah and our area and … if we were to leave these schools open, what could happen versus if we have space available in neighboring schools," Stephenson said.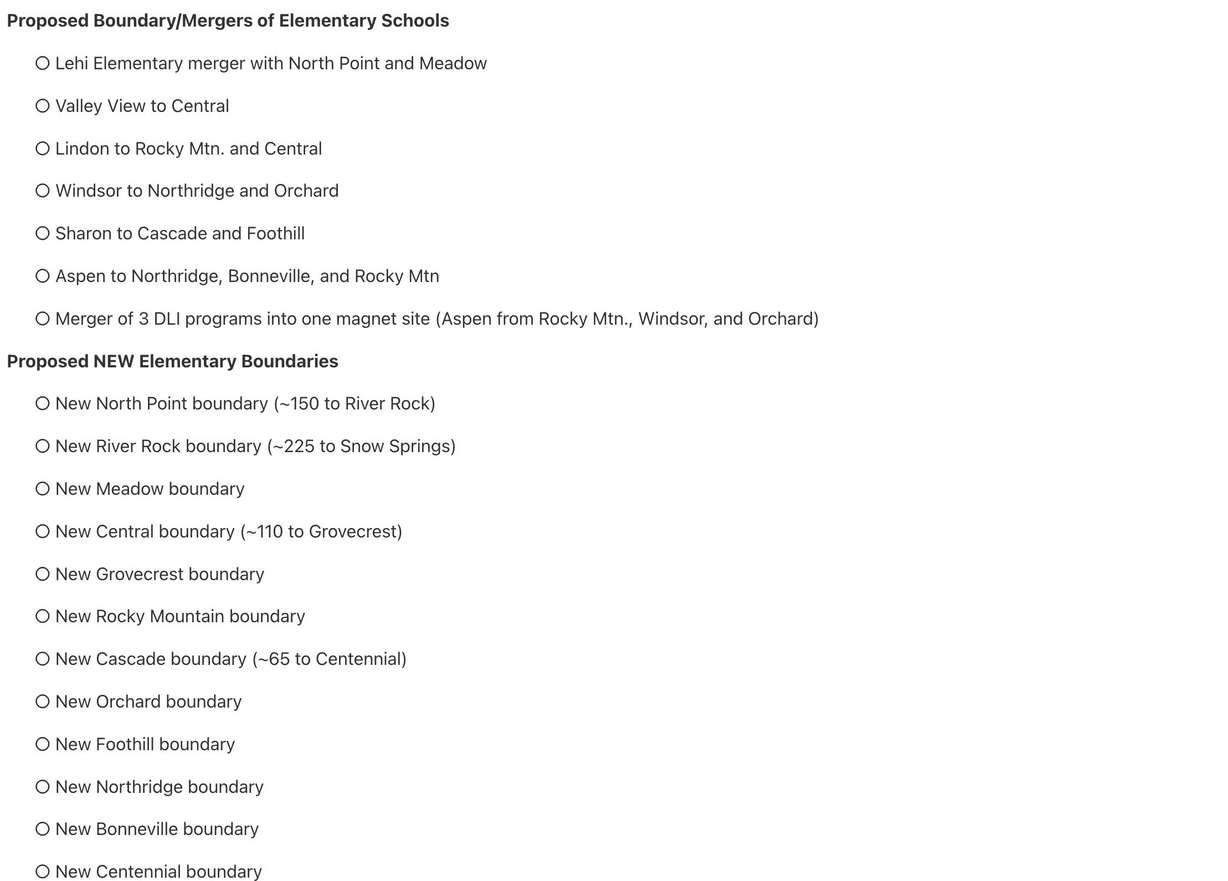 He noted that boundary changes are difficult, as some schools have seen generations of families walk through the respective doors.
"It's a hard thing when you hear that the school that you attended, that your child attended and that your grandchild is attending now is potentially going to be closed and that is a concern that we've obviously heard," Stephenson said, emphasizing the need to weigh those concerns with the safety of students and staff in seismically vulnerable buildings.
Parents speak against closures during meeting
At the board meeting Tuesday night, public comments regarding the boundary study and potential closures were dominated by parents speaking against the idea of closing schools.
McAllister noted that with the proposed boundary changes and closing of Lehi Elementary, her child will be sent to North Point Elementary.
While McAllister said doesn't believe that closing Lehi Elementary is the right path forward, she wants to see "more thought" put into the reworked boundaries, primarily due to what she described as safety concerns with students from Lehi Elementary traveling to attend North Point.
"Please reconsider your proposal to close Lehi Elementary this year. If our school must be closed, please consider sending all of our students to Meadow Elementary, which I believe is going to be a safer and a better long-term decision," McAllister said.
Despite the December letter notifying parents of the boundary study, Erin Dyer, the mother of two Lehi Elementary students, said that she feels like the process has been rushed.
"It seems like this time of public input is more of a legal formality than an actual time of true consideration and careful study," Dyer said. "Lehi needs more schools, not less. This decision will negatively impact thousands of students from six different schools in the southwest area of Lehi."
Stephenson said he expects the potential closure of the five schools to be on the agenda for the board meeting that follows the public hearing on April 18.
"I think we'll have a good feeling of what the board is planning to do as far as the options at that board meeting," Stephenson said.
Although he isn't sure when a final decision will be made, Stephenson said that if the board decides to move forward with the closures, it's "possible" that the schools will close after the current school year.