Here's when Utahns will elect a replacement for Rep. Chris Stewart
Jun 14, 2023, 9:30 PM | Updated: 9:31 pm
(AP Photo/Rick Bowmer, File)
SALT LAKE CITY — Utah lawmakers acted quickly in special session Wednesday to shift the dates for municipal elections throughout the state to accommodate a special election to fill the 2nd Congressional District seat being vacated by Rep. Chris Stewart.
HB2001, sponsored by Rep. Calvin Musselman, R-West Haven, passed unanimously in the House and by a vote of 27-1 in the Senate, largely without debate. The bill was the only legislation on the special session agenda.
Stewart announced his resignation late last month and will step down on Sept. 15 due to his wife's ongoing health issues. The longest-serving member of Utah's four all-Republican members of the U.S. House, he was first elected in 2012.
In order to fill the coming vacancy fast, lawmakers opted to push back this year's municipal primary and general elections by several weeks and hold a special congressional primary and general election on those same days.
Now, all of the state's municipal primaries, along with the special primary election in Stewart's district, will be held on Sept. 5. All municipal general elections and the special general election for the U.S. House seat will be on Nov. 21.
The bill appropriates $2.5 million, mostly to reimburse counties for any additional costs of running the special congressional primary and general elections that will take place in 13 of the state's 29 counties, at a rate of up to $2.50 for each active registered voter.
Also in the appropriation is $400,000 for voter outreach.
Musselman told the House the changes reflect lawmakers' efforts to reduce voter confusion while ensuring voters in Utah's 2nd Congressional District don't go unrepresented for too long.
"The highest priority of those would be … minimizing time or negating the time in which the citizens are unrepresented," he said. "We also wanted as much as we possibly could (to) mirror the process that the voters would see," in a normal election cycle.
The only vote against the bill came in the Senate, from Sen. Nate Blouin, D-Salt Lake.
Blouin said he would have preferred the bill allow at least some time for Democratic and United Utah party members to change their party affiliation to the GOP to be able to vote in the closed Republican primary.
A provision in the bill eliminates any opportunity for voters to switch their political party affiliation in time to vote in the congressional primary. In even-year elections, when partisan races are on the ballot, the deadline is April 1.
The Democratic senator also said he's heard concerns that the proximity of the new election dates to holidays could make it difficult to recruit election workers. The new primary is a day after Labor Day and the general election is the same week as Thanksgiving.
The bill was recommended unanimously earlier Wednesday by the Government Operations Interim Committee. Musselman, the committee's House chairman, said both state and local government officials had a say.
"It's been a collaborative effort," he said. "Everybody has contributed in providing input and negotiation in order to try and land this in a place that everybody can live with and in the end, hopefully, everybody will feel good about. I think that they will."
Musselman said it would have been "an absolute nightmare to administer" a separate special congressional election but the existing dates set for municipal primary and general elections throughout Utah were too soon.
He said the new dates were chosen with the intent of moving them "as little as possible."
Sticking to "a familiar process," Musselman said, will minimize voter fatigue and confusion.
Eliminating the possibility of changing parties was also addressed in the hearing.
Musselman said with the election dates moving, that deadline would already have passed for what he termed a moratorium on party switching so "the best we could do is make it effective immediately."
He stressed that there are no constraints and "never will be" on unaffiliated voters, who outnumber all but Republicans in Utah. That means unaffiliated voters still would be able to join the GOP and vote in the state's closed Republican congressional primary.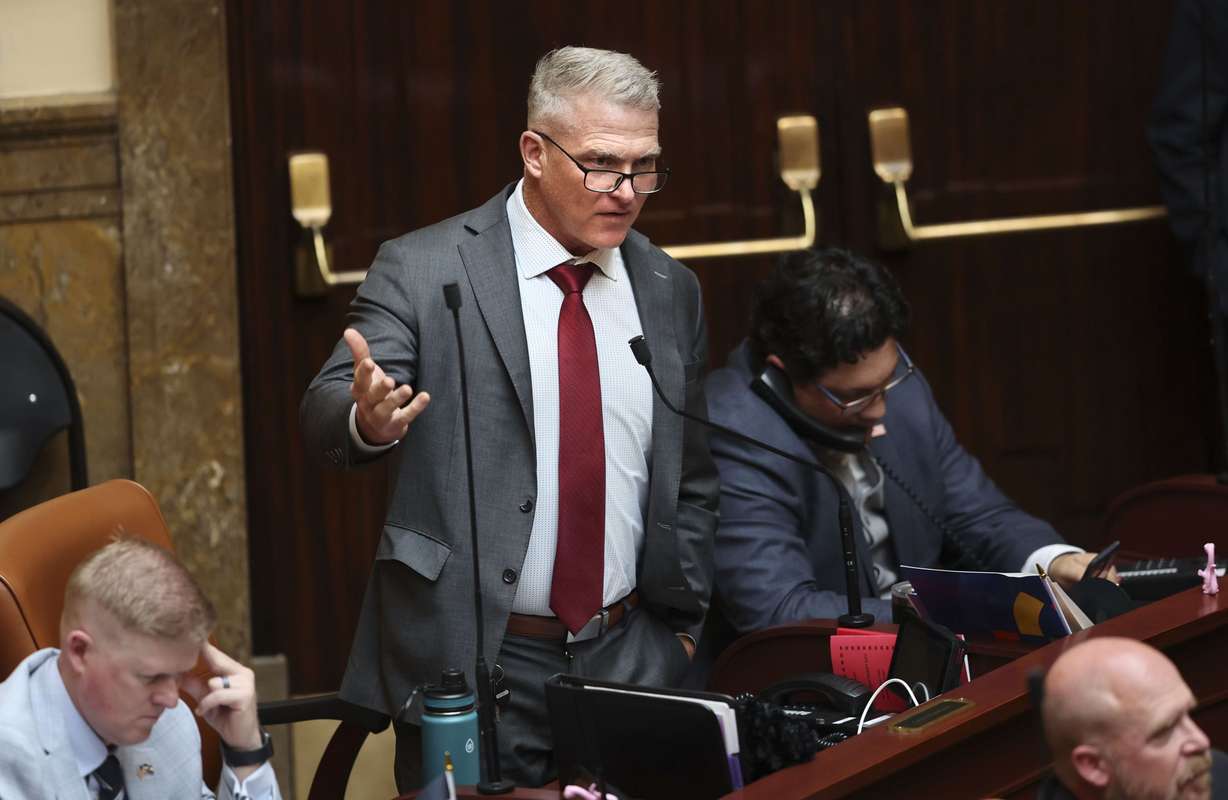 Rep. Kay Christofferson, R-Lehi, asked why party changes are allowed "whenever you want" in some years but not others, adding, "I just thought we thought it would be good not to be switching because it messes with primaries."
Musselman suggested that's allowed in odd-year elections because municipal races are nonpartisan.
"That's the way our code is, whether right, wrong or indifferent. If there's a concern on that, that would be for another bill," he said.
The bill includes $50,000 to revise the state's voter software to impose a deadline on voter affiliation changes for the special congressional election. Lt. Gov. Deidre Henderson told the Deseret News the deadline "was a policy decision the Legislature requested."
Without action by the Legislature the primary election to fill Stewart's seat couldn't have been held until November and the general election would have had to wait until March or even June under a law passed after former Rep. Jason Chaffetz's resignation in 2017.
Chaffetz's decision to step down created tension between then-Gov. Gary Herbert and legislative leaders, who wanted to skip a primary and let party delegates choose the nominees to replace the congressman.
Instead, Herbert set a primary and general election, raising questions about whether he had exceeded his constitutional authority. Lawmakers still feel they are the ones "in charge of setting policy for the state," House Majority Leader Mike Schultz, R-Hooper, told reporters.
The law put in place after Chaffetz's resignation gives the governor only four options for calling a special election to fill a congressional vacancy without their input — a municipal or regular general election, a presidential primary, or a regular primary.
"I don't think we can write a statute that accommodates every possible scenario when a congressman resigns," Senate President Stuart Adams, R-Layton, said before the special session. "This process is something we probably have to go through every time."
Adams said the sole bill on the agenda is "not a beautiful solution but nothing's perfect." He said candidates for the remainder of Stewart's term could have been campaigning at the same time as those who filed to run in January for the next term.
"Imagine the mess we would have," the Senate leader said, noting lawmakers have yet to fund one of the governor's four options for holding the special congressional election, the March presidential primary.
As of Wednesday's 5 p.m. deadline to file as a candidate in the special election , 22 Utahns have thrown their hats into the ring, setting up primary elections for both major parties in September.
Former House Speaker Greg Hughes, a 2020 gubernatorial candidate, and former state lawmaker and U.S. Senate candidate Becky Edwards are among the most prominent Republican candidates. State Senate Minority Whip Kathleen Riebe, D-Cottonwood Heights, is the most well-known Democrat.