Utah Inland Port Authority announces 3rd project area in Spanish Fork
(Annie Barker, Deseret News)
SPANISH FORK, Utah — A third inland port is coming to the Beehive State, with the latest installment set to call Utah County home.
Approved unanimously by the Utah Inland Port Authority Board of Directors during a meeting Monday, the Verk Industrial Park Project Area will be located in Spanish Fork and will serve as a strategic location due in part to its close proximity to both I-15 and U.S. 6.
"It's right at the edge of the Wasatch Front," said Ben Hart, executive director of the Utah Inland Port Authority. "I think that creates a really unique opportunity to help capture more traffic or … convert trucks to rail. But I think it also gives access to a lot of shippers in the Utah County community."
With a strong base of exporters and importers for Utah, having better transportation access in Utah County is critical, Hart said, adding that he hopes the Verk Industrial Park Project Area will draw the "best and brightest" advanced manufacturers to Utah County and improve freight movement.
"It's strategic in its location because it really allows us to, hopefully, help takes trucks off the road farther to the south along the Wasatch Front. I think it also helps us open shipping corridors to ports that perhaps we haven't worked with, so ports up in the northwest part of the United States," Hart said.
Additionally, he said, the port will be a welcome addition to a county experiencing rapid growth.
Utah County was the state's leader in absolute growth between July 1, 2021, and July 1, 2022, adding over 16,000 new residents to push the countywide estimate over 700,000 people for the first time — making it the second most-populated county in the state, next to only Salt Lake County, according to U.S. Census Bureau data.
Along with streamlining freight movement and shipping logistics, the port will also bring a plethora of much-needed jobs to the area, to the tune of around 6,000 to 8,000 new jobs.
"What we're going to be targeting are high-paying jobs, particularly in durable, forward-facing industries — meaning industries that aren't just going to be here today, gone tomorrow, but really are going to be a strong economic foundation for the economy for years to come," Hart said.
Hart estimated that the tax revenue generated through the port over a 25-year period, 75% of which he said will be reinvested back into the local community, to be somewhere near $143 million.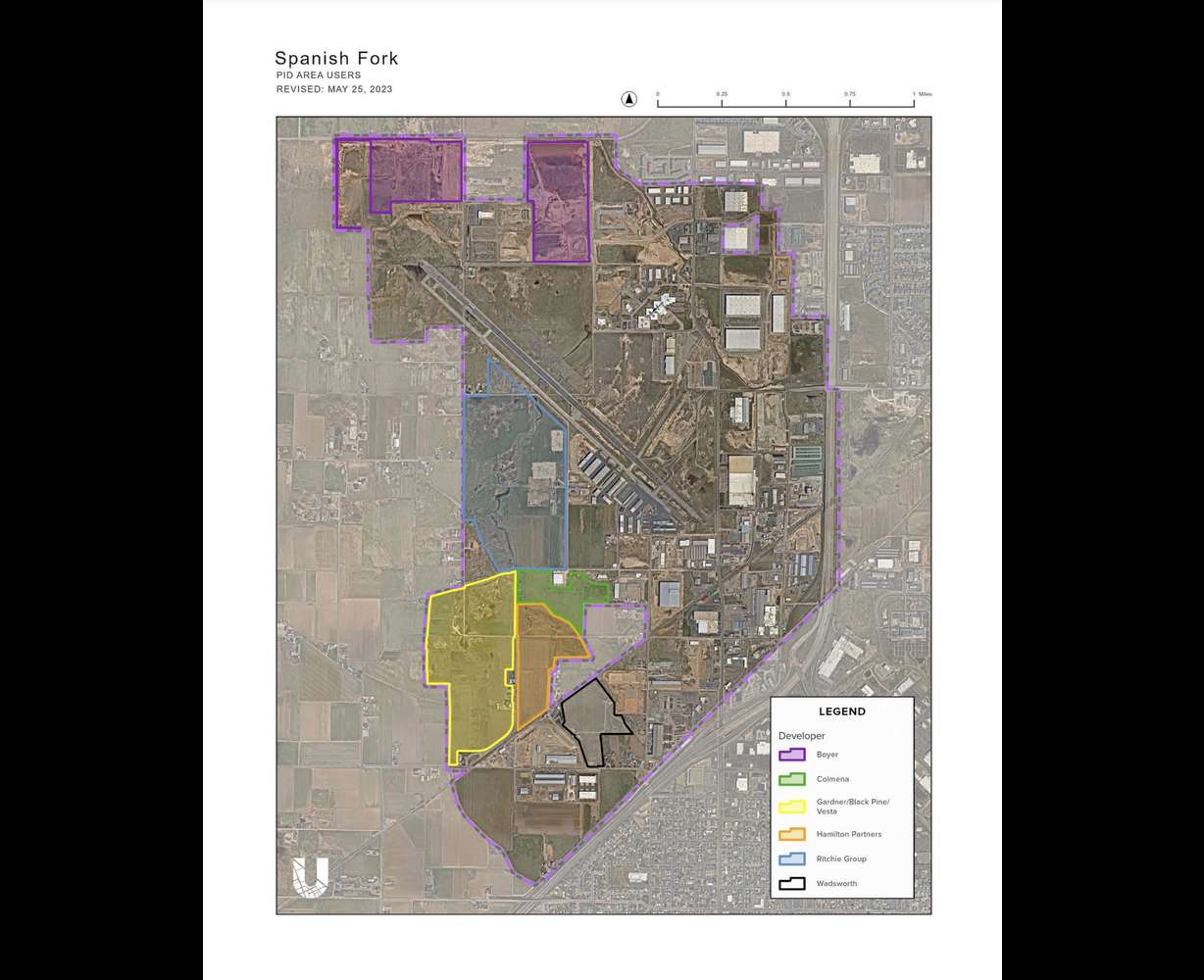 "We're able to harness the local property taxes that are going to be generated by this project along with, potentially, other state revenues that come from our infrastructure bank to really focus and help invest into this area," Hart said.
Utah County Commissioner Brandon Gordon emphasized the project's significance in bolstering the regional economy and attracting high-tech, advanced manufacturing jobs to the region while also providing economic balance to the other strong industries in the county.
"Sustainable growth in the Utah County region will require investments in multi-modal options for both public transportation and the movement of goods. This project area will allow regional businesses to better utilize its existing rail options and ensure less pollutants that stem from dependency on the roadways for truck transit," Gordon said in a statement.
Above all, Hart said the Utah Inland Port Authority is highly optimistic about the future of the Verk Industrial Park Project Area and he envisions it as an economic focal point for the entirety of Utah County for the foreseeable generations.
"The Spanish Fork project area is really going to stand alone as being very unique for the inland port," Hart said. "Its location right in the middle of the fastest-growing county, you know, maybe in the country, makes it very special and very unique. But if we don't have jobs for our kids, if we don't have strong revenue sources to pay for that growth, then it makes the quality of life diminish."