Judge sends Utahn to prison for 'unconscionable' murder of his wife as kids tried stopping him
(Emily Ashcraft, KSL.com)
SALT LAKE CITY — A father was ordered Wednesday to spend at least 15 years and up to life in prison for brutally killing his wife, Utahna Halona, in their Midvale home in 2020.
At one point while John West Erickson Jr. was stabbing her, their two young children — then ages 7 and 11 — were in the room and tried to stop him.
Utahna Halona's mother, Shirlee Silversmith, who has custody of the children, told the judge the children were severely impacted. Just when she thinks her granddaughter is getting better, she will have more nightmares; and her grandson is always playing in his mind the things he witnessed.
The late woman's siblings and stepfather spoke, as well, about the broader impact the woman's life and untimely death has had on them and their extended family.
The courtroom and an overflow room in the Matheson Courthouse were full of people wearing shirts stating: "Justice for Utahna" and "Forever in our hearts."
"She is the peacemaker. She is the one that would always bring us together and give us the strength to smile and laugh," Silversmith said. She said her daughter, who is full Navajo, is now part of the statistics of murdered and missing indigenous women — one she does not want to be ignored.
Erickson, 44, pleaded guilty on June 5 to murder, a first-degree felony. Three other charges were dismissed as part of a plea deal, including child abuse, a second-degree felony, and two counts of domestic violence in the presence of a child, a third-degree felony.
Judge Richard McKelvie told Erickson he was ordering the maximum sentence available.
"Mr. Erickson, you deserve to go to prison — what you did here was unconscionable.
"You took the life not only of your wife, but you took the life of your wife while she was in the process of trying to save yours. If you had allowed her to be successful, she would still be here and we wouldn't be (here). I hope you understand that," McKelvie said.
The judge said he hopes it will be a long time before Erickson is considered for parole, but when it does happen, that Erickson will have prepared himself to become a productive member of society.
Erickson's attorney, Brenda Viera, said her client decided to accept the plea deal to spare his children from needing to testify about serious and private matters at a jury trial. She said after he saw the plan for upcoming hearings, he asked to go ahead with the plea.
Erickson had his hands and feet cuffed and showed little emotion during Wednesday's hearing. He choose not to speak, but Viera read a statement from him that said, "My most heartfelt and sincere apologies go to the victims."
His statement went on to say he hopes to spare the victims from pain by taking full responsibility, which is the only way he can help those who lost their mother, daughter, sister and friend.
Deputy Salt Lake County attorney Morgan Vedejs said the pre-sentence report indicates that Erickson said "someone" tried to stop him from hurting himself and he stabbed her back. She questioned why he said "someone."
"It was his wife, the mother of his children and he cannot say her name," Vedejs said.
Victims still grieving
Halona's younger sister Desiree Raulston said the night she learned her sister had been killed — Oct. 28, 2020 — was the worst night of her life. The situation, she said, was an "entirely different monster" from other deaths with which she has dealt.
"What was left in my already broken heart has been shattered," she said.
Multiple siblings spoke on how they heard about their sister's death via phone calls and what they did to support each other and the children that evening.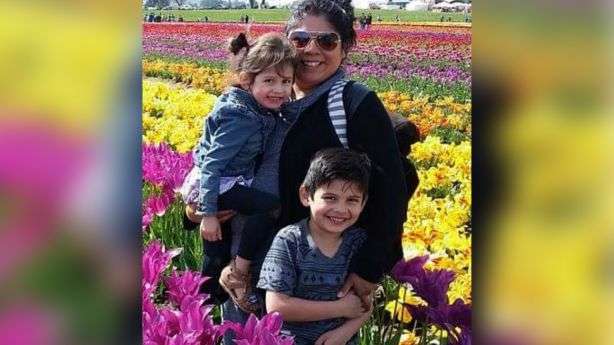 Leigh Vornkahl, another sister, said, "I have never felt so much anger and hate, and I'm so broken."
She talked about the children crying and asking "why" when they were told at the hospital that their mom had died, and she had no answers for them. She said it "was heart-breaking and gut-wrenching."
Vornkahl talked about going to dress her sister for burial and seeing all of the cuts on her body.
"This is not an accident that John made — one cut may have been an accident. But all the cuts, the depth of what he did to her was horrific," she said. "He took her beautiful soul away from us. Nothing is the same without Utahna."
Vornkahl decorates her sister's grave every month, because her sister loved holidays and decorations.
She said she never heard Halona say anything negative about her husband, and Utahna Halona stood by her husband while he was in and out of rehabilitation for alcohol abuse.
"I don't know how a person could do such a horrible thing to someone who loved and supported him," Vornkahl said.
The victim's brother, Michael Halona, said Erickson didn't use a kitchen knife as the weapon, but a hunting knife. He directed his statements towards the parole board that might look at the case in the future, and said the impact on their family will last forever.
Kent Weight, Utahna Halona's stepfather, said he raised her from the time she was 2. He said she was "the family peacemaker" and a loving sister in a blended family. He said she was killed by "the very person who shouldn't have been able to comprehend such an act — her own husband, father of her children, the person who she should have been able to depend on and rely on."
Weight said Erickson stabbed Utahna Halona repeatedly, as she and the children begged for her life. Sending her children to run for help saved their lives and showed she was still more concerned about her children than anything else, he said, adding that Erickson has not shown any remorse.
He asked the judge to impose a sentence that did not allow for parole, so that the two children would never need to come into contact with their father outside of prison.